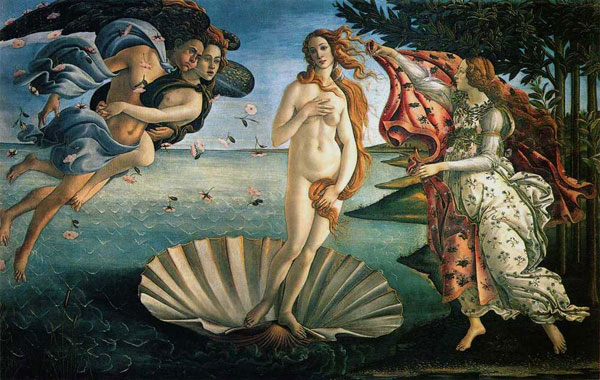 Botticelli The Birth of Venus… Spring winds blowing Venus into the cape of summer.
There is a magical quality to March wind. At times it can scream right through you and then at the flip of a switch it can be light and forgiving, bathing the naked trees with it's lamby glow.  Mercurial, relentless and divine, March in NY is always like experiencing natures purest form of caffeine. The earth is literally quaking with the energy of a double mocha latte frappuccino. I dig it.
For me it has  always been a time of production. If it's not taking shape in March then its probably not happening till the fall.  A show, an album, tee shirts,  writing a song… you name it.  The clock is ticking and I can feel it.  Angry empty wires on a stripped winter sailboat flay about slapping  into each other. They clap briskly like an old Russian dance instructor who has lost his patience and has no more time for your shitty plie´.  "Clap. Clap!" they crack in the grey sky. 'Get to it. The March Winds are calling!'
So to it I get. I am fresh off of a two week media detox. I have to be careful using that word as everyone thinks 'detox' connotes drugs and alcohol but let me tell you that email, texts and phone messages feel just as insidious to me these days. Almost impossible to escape and there is always a price to pay for ignoring instant communication. A job or two lost. Personally I can live with it.
So away I went to the outskirts of my little finca in Ecuador, complete with my family and a good book in tow. It served me well and I truly feel recharged.  While in Ecuador I bought my son two goats for his birthday, saved a few puppies that had been cast on the road to die and drank really good coffee every morning whilst listening to the wild birds in the still morning light.  I have learned that it doesn't take much to clear the slate but that the slate must indeed be wiped clean before new thoughts can begin. I have also learned that before the rush there needs to be stillness or else your just running in circles half the time. So ring the bell and let the pixie dust twirl for another year or making music.
I won't gaggle on and on about our January shows at Baystreet but yes, it was a great way to start the year. Five for five sold out shows and yes, I am still blissing out on key musical moments from each guest.  It is a gift to have such support from you all and I truly thank you for coming out and buying the tickets.  I hope you enjoyed it as much as our band did. We are looking forward to the possibility of a few more musical collaborations within this year with each of our guests. Once is not enough. I will keep you in the loop.
I will be starting to post summer dates as of today. August is currently a little light and that is on purpose as I may take a little feral adventure of some sort. Still not locked in but still not locked out either. After 30 years of working every summer I feel inclined to potentially try something new but we shall see. Only the March winds can tell at this point.
May you take the time to look down at your feet and find them crouched down on the gravely outskirts of a barren road in a third world country with four very sick little puppies in bad shape crawling out of a tossed box and say to yourself, "Oh No! No. No. No. I am going to save you!" and maybe, just possibly, you bring one of those pups back to your home only to find out that he was indeed saving you.
That is another thing I have definitely learned: You never know the exact reason why certain things happen.
Have a magnificent spring and I will see you all on the stage March 18th at 7 pm (EARLY please note). Please bring a friend and lets get this party going!
Peace, Love and broken guitar Strings,
Nancy