[ultimatepro 12 /]There are some years that glow musically and if I don't play one more damn note for the rest of 2015, this year will already  rank among one of my favorites. We started out with a bang for New Years, then sold out a bunch of shows at Baystreet Theater from Jan-March. Took a small break and then headed to Wyoming  in April with The Inda Eaton Band for what can only be described as a Sonic Bliss Tour. Lots of four part singing and hearing old original songs in a whole new light. Then came this luscious summer complete with rolling, undulating days of sunshine back to back with light winds and heavy crowds. Yes, 2015 has been a keeper. Off the hook. The brass ring. The blue ribboned pig.
Musical Summer Highlights include:
Writing a song called  "The Tale of Johnny Load"  and finishing it one June morning then playing it, unexpectedly, that very night to the men who inspired it (John Aldridge and Little Anthony). By the first verse  the entire packed out crowd at The Surf Lodge just kind of stopped talking. A stillness swept over the place. Will not forget that for a long time. Any gigging musician has to learn how to work with and turn the volume of a room but when you have a raucous crowd that falls silent due to a song… for many of us that is as good as it gets.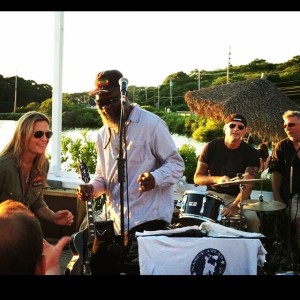 More highlights? How about every time Chad Smith came to sit in with us which was about 4 times? (Good times for us.. not so good for Rich's snare). Or how about Surf Lodge Wednesdays in general?  It was a bit of a love fest this year. Our June shows were packed out like August. People getting there an hour early to stake out their chairs and tables. We got to play our original tunes, the sun got to set, special guests just kept dropping in. It became like a weekly block party with really good margaritas. It was a slam dunk of a season there. Truly. Thanks for supporting the arts  if you came down and partook!
Lest we not forget a rollicking original showcase at the Talkhouse on Fourth of July weekend. We have played the Talkhouse countless times  but THIS show was our first 8 pm summer slot ever and it got hot and sweaty just how we like it. Packed out once again all original showcase. National slot on a big weekend (THANK YOU PETER HONERKAMP). After playing 16 years of late night, there was such joy to walk out at 10pm without having to deal with one single drunk person requesting "The Nea Nea" song or saying something like, "Whose Led Zepplin?". That is what broke me in the end. So yes. It was a gift to play  my tunes early to a stacked up house. It's the simple pleasures.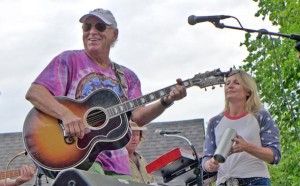 Ring the bell. We are still in July.  Jimmy Buffett, Wounded Warrior Benefit, Amagansett Square and then  a shout out  a month later at Jones Beach which is the video above (I have a thing for Jones Beach people. Jones Beach and Red Rocks and Willie Nelson, Oh My! So it was lovely that he gave us a quickie on that sacred stage).
What else. Navy Beach Restaurant. Sunsets. Martin. Franklin. Frank and Christine. The whole staff treating us like family. Chicks in white go-go boots meeting Sea Planes and James Bond Water/Land boats that came in for the show. What? Yep. I don't know if that is necessarily good but it was, shall we say, different?  Here is a little photo just in case you think I'm talking smack.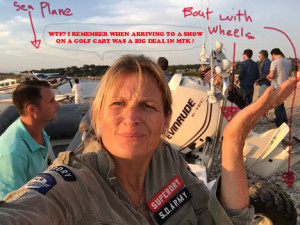 Might I add that we  sold out of almost all of our merch on Labor Day? The golden ball that is the summer of 2015 just kept rolling along!  Thanks Ellen and Mo. That's what I'm saying. BRASS RING.  Still have CD's but ladies shirts, our Long sleeved puppies.. GONE, GONE, GONE! Damn. Check out this shit going down at Ditch Plains. I am feeling the love and they are feelin the cotton. Love those ladies.
What else. Ummmm… My daughter turned TWO and I made sure to take OFF. I also took a trip to Block Island for five days and let me just say that that kind of break doesn't happen in summer for me. Now are you seeing why 2015 was so epic? I have turned a new leaf and have become a human being. Thank you The Oar Restaurant and specifically Orla, Lenny and George. We will see you all next summer. The third Sunday in July to be exact.
But wait…Here comes August!  Let the summer highlights continue. How about a night out seeing Billy Campion and the boys!! The Bogmen with Chadwick at The Talkhouse?!  That went down too. Did we totally jump up on stage and dork out? Hell yes we did. We dorked out and loved every flipping minute of it.
Hold up… I realize this is starting to get long in the tooth but it's a recap. The damn cane is coming out and they are trying to pull me away from my keypad. They are cueing the violin music to signal me that my time is up.. but  wait… can we just say:   The biggest turnout at Gosmans EVER. Say what? Yep. Holy super cat.

What the hell is going on here people? It's just a bit Crazy Jay-Z. On behalf of my kick ass band and our sick sound men this year (oh yeah Mazz and Rob! I'm talking to you)  we are feeling the love and appreciative and want you all to know that we really try to keep it fresh. After two back to back babies it is lovely to have my brain back and to feel inspired and creative.  I hope I don't get too mushy here but there have been several times this summer that Neil, Brett, Johnny, Rich and I have sat around a dinner table just shaking our heads at the continued turnout and really just so thankful. So touched. And really just trying to be present to the beauty of it all. I feel like Sally Field. "You like us. You really like us!" (you have to be over 40 to get that).
So as September folds and wraps itself around the heavy lidded trees, I am now taking a moment to catch other parts of my life up to speed. Catch up on recordings. Trademark shit. Finish the bridge to the song I never finished a year ago. Book out some guests for a winter series. Make some beach plum jelly. Get in on the last round of divine orange summer tomatoes.  Roast my kids a chicken and watch them smear chocolate ice cream over their faces with glee as the sun starts to set at 6pm. It's all part of the picture and very much apart of the song.
We have a killer weekend coming up on Saturday Sept 26th that includes a double shot of the Sag Harbor Music Festival (3:30 by American Hotel) and then 8pm at Talkhouse. Come join us! It will be a totally different show as we have Andy Aledort on the early 3:30 hit and Klyph Black on the 8pm Talkhouse. How many musicians does it take to screw in a light bulb? I have no bloody clue but it apparently takes two guitarists to replace Johnny Blood for a Saturday :)  (and how lucky we are with the replacements. Drool worthy!)
Once a month Talkhouse hits for sure. So check out our gigs page and definitely join us for New Years if you are on the East End.
Ok. Aside from that Fireside Sessions are on their way. Saturdays in January only. Get your tickets fast as we only have five shows. You heard it hear first… Randi and Clark are already in.
May you take time to look down at your feet and find them sweating in boots that you shouldn't be wearing yet because it's an Indian Summer and as much as you don't want it to end you are joyously waiting for the cool chill of September to kiss your sweaty brow.
Peace, Love and Broken Guitar Strings.
Nancy