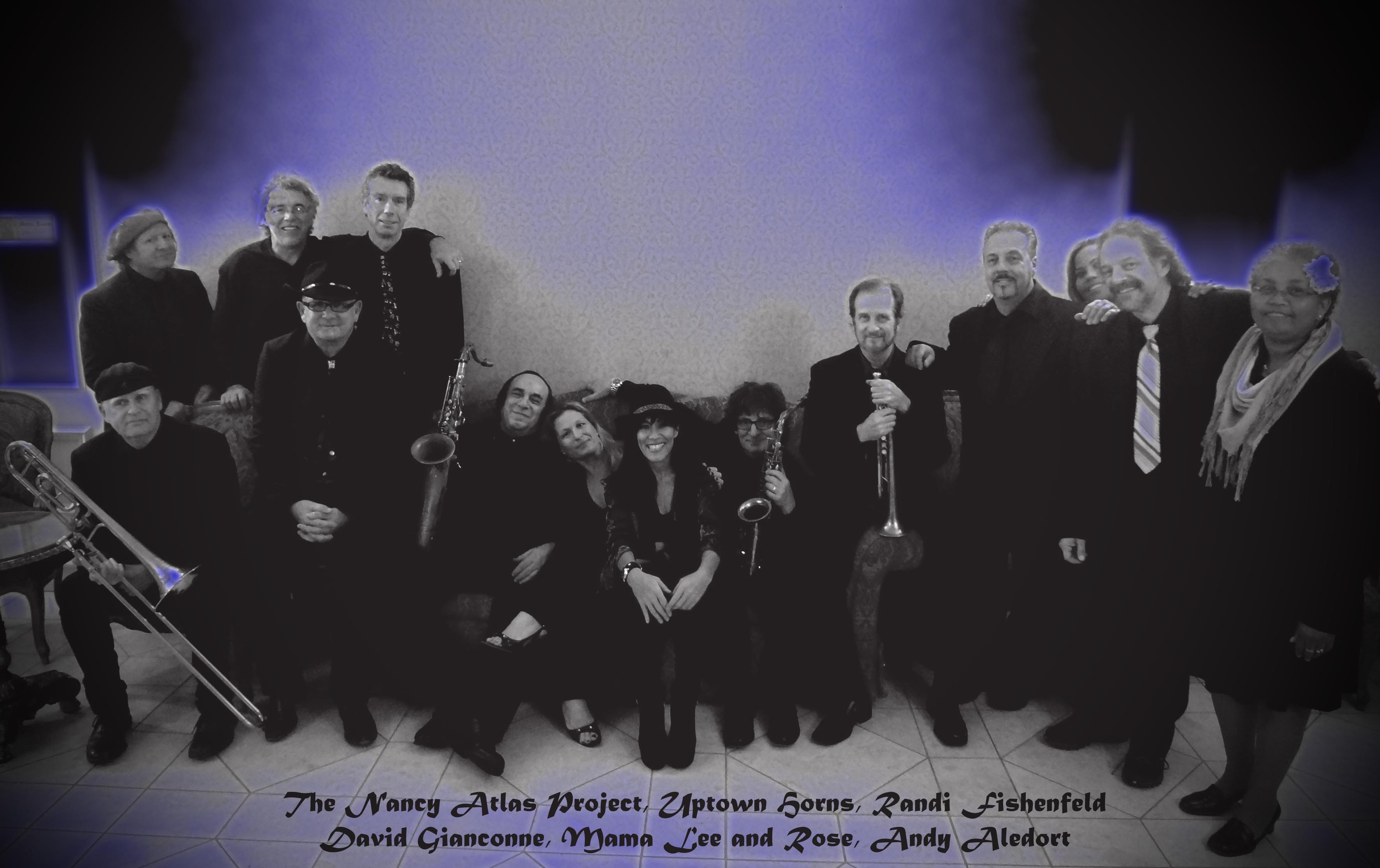 18 Wheeler – Photo by Thomas Muse.
See this Beast of a Band? If I had to give it a name I would call it "18 wheeler" even though there are only 14 of us. 18 Wheeler because that is what it feels like at the helm of it. That's what it feels like when you are driving it. A massive mack truck barreling down a steep hill with no brakes. Hold on, grip the wheel and drive baby drive. What a divine pleasure to play with the legendary Uptown Horns. They've only played with The Rolling Stones, Springsteen and some cat named Ray Charles. Did I mention James Brown? Yeah. "Love Shack" "Hot Hot, Hot". All the Uptown Horns. Then add Andy Aledort and Johnny Blood on Lead guitar. Andy plays with Dicky Betts so we all know that he does not suck. Then throw in the spice. Randi Fishenfeld on Violin, writhing and snaking like the haunted ethereal Goddess that she is. There is no one like Randi and there never will be. I could go on and on but I will say this. The best live music starts somewhere deep in the heart and transfers out through your calloused fingertips, your thrashing foot or your glistened mashed lips on some dented mic. When you surround yourself with friends on stage, (and I am lucky enough to have world class friends) that purge of the spirit happens almost immediately because there is a comfort there, a knowing, a bond. You are able to look at each other, to listen to what is going down on the stage and realize that you are free to fly because everyone has your back and is in it together musically. The more Johnny Blood gets off, the more I get off when it is my turn up to bat and then it is a chain reaction probably reminiscent in battle. All for one. One for all. (at this point I would just like to say that I am SO HAPPY that I am not famous because if I were then The Star or Enquirer would take that last line and make me look like an asshole. "Nancy Atlas says playing music is like going to war". Yep. So NOT being Taylor Swift has its advantages! Yah! I've long said that anonymity is underated. ) Lets also take a moment to note that I just quoted the Three Musketeers. Note to self: Get on with it.
Seriously folks. When You get to this point in a show it looks like this: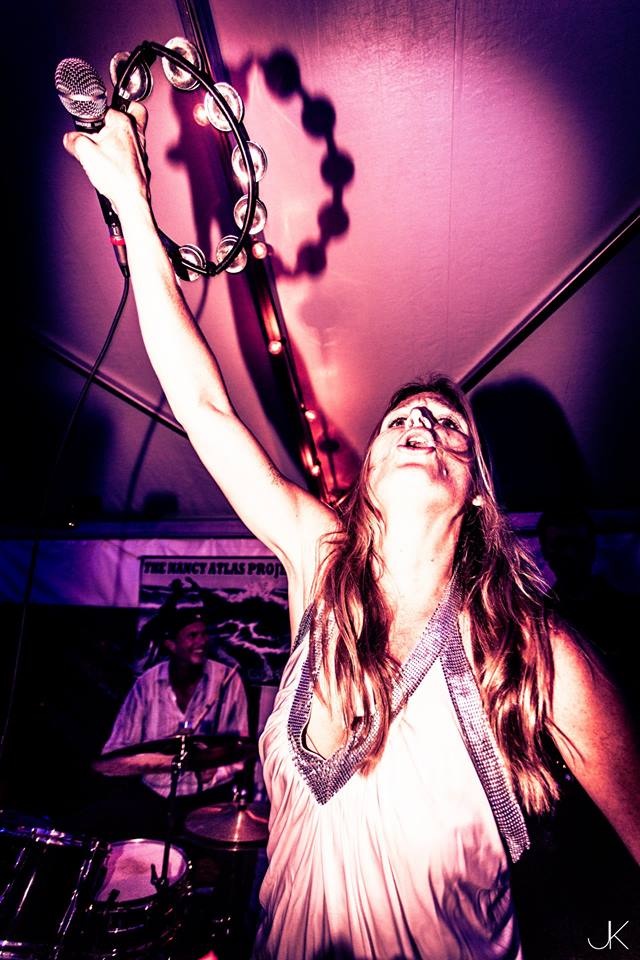 Photo of Chad Smith and Nancy by James Katsipis
Or in that moment it also looks like this: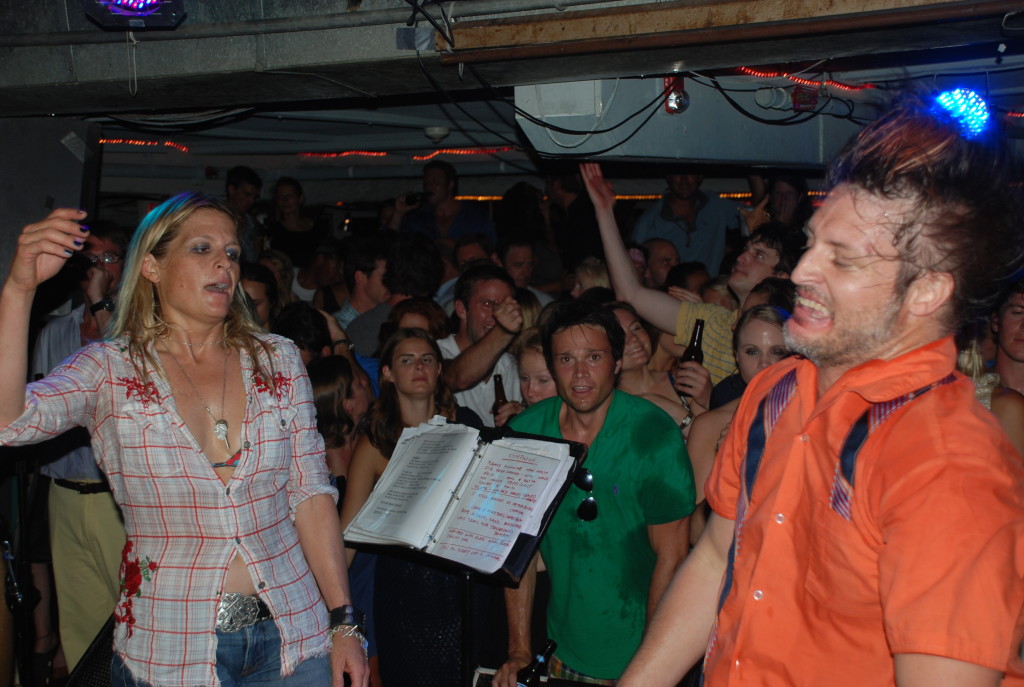 Photo of Billy Campion (Bogmen) and Nancy Atlas at Talkhouse.
To any extent when you play with people you love onstage as much as you love them offstage that is usually when the truly magical shit goes down.
This past Saturday was no exception.
Our Fireside Sessions are coming to Baystreet again. Our line up is off the hook. My special guests are all friends on some level and ready to get down. Tickets are available at the Bay Street Box Office or online at Baystreet.org (online is an extra $5 a ticket… just a heads up).
This years guests include:
Jan 2 – Chad Smith (drummer RHCP)
Jan 9th – Clark Gayton (Multi Instrument Keys, Horns Regge Funk.. Springsteen, Sting to name a few)
Jan 16th – Brian Mitchell (Keys, Vocal New Orleans Funk.. Think Dr. Johnish/ Levon Helm Band member)
Jan 23/24 – Randi Fishenfeld (Violinist Extraordinaire)
Jan 30th – Bill Sims Jr. (Blues Guitarist Vocalist)
March 6th- Billy Campion and Billy Ryan (Bogmen… No more needed to be said there.INSANE)
March 13th- Pending
March 20th – Pending
March 27th- Arno Hecht of the Uptown Horns (Springsteen, Rolling Stones, endless…)
We are so looking forward to seeing our friends, making some music and getting together to purge our hearts, grip our instruments and let it fly. The Sessions Run every friday night in January and March (february I am out of here sucka).
Also don't forget on Nov 22nd we will have an early showcase at the Talkhouse (8pm) and also playing there New Years Eve to boot! The fun never stops.
To much to write. Gotta roll.
As is custom: May you look down at your feet and find them sore and throbbing from stopping up and down in high heel shoes as a 14 piece band booms behind you in unison sounding like the inner lining of Gods pillow.
Soft, sweet and strong.
In that moment you are truly alive.
love and respect,
Nancy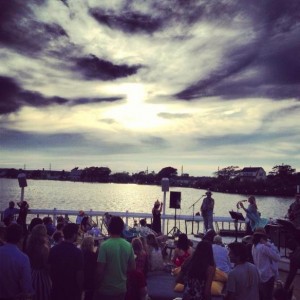 I am trying to catch my breath after a crazy summer. It was overflowing. Bountiful. Copious. To the wall. We did about 30 shows in 40 something days and while we tried to make each one unique and special, complete with allstar guests and impromptu free style raps, there was another life that payed the price for each night on the stage. Obviously, I do the same dance that every parent does between work and play with my kids so I am not talking about that. I'm with my kids every day so that's not the issue. I am talking about my creative life. My lone wolf pretty much hibernates in the summer time. The notebook goes blank and the very songs that bring the people, sit dormant in wait for their completion. Each year our following seems to grow and what was our slow time has suddenly become a time of equal demand. These are not things to bitch about. Trust me I get that I am a lucky girl and that I sit in a very nice seat with my ability to book out our band a year ahead. It took 18 years to get here but the fact is… Live performance and three kiddies leave very little time for the main reason I started this whole dang thing: To write songs. So, since I'm not planning on pulling a Lucille and leaving Kenny Rogers with "four hungry children and a crop in the field", I do have the ability to reign in some of the live shows. To chill out on the bookings. So that is why our fall is a bit light as I will be taking a break for a bit while I attempt to carve out a few tunes to paper that have been knocking on the inner walls of my cranium and also try to find time to record the ones that came barreling through in the past few years. "King City", "Uncle Suzie", "Mystic", "Cut and Run","Just Another Day", "Los Angelitos" just to name a few. I am aching to give them some polish and rub them till they shine. All I need is the time.
That said we will still have a few select shows this fall/winter. Our band will play our honorary once a month gig at the Talkhouse. I love these shows. They are cathartic if nothing else. A time for us to all come together, drink a beer on a cold, chilly fall night and make some music together. We also have NYE at Talkhouse and then the Fireside Sessions kick in at Baystreet on January 2nd, 2015. Before you know it I will be writing about Elvis and spring. I've promised our city die-hards at least one show in the big Apple so I'll keep you posted on that. Right now it just feels like September is already going way to fast, but I don't need to tell you that.
The above photos is from one of our Surf Lodge Wednesdays. Our live shows this summer surpassed all of our previous attendance records which is hard for me to believe but it is true. Gosmans, Surf Lodge, Talkhouse…all packed out. If you came to one of those shows please accept a personal THANK YOU from me for dealing with the parking, the madness or just the time to get there. I truly appreciate your support of our band. I picked this particular shot as the sky just looks so beautiful.. it just kind of makes me take a minute and slow down and reflect on how lucky we all are to make music or watch music in these settings. The East End and Montauk in particular, as mobbed as it was this year, still delivers every time.
I will post more soon. I was really just checking in to the site to say thanks for a great season and also that Nik "Cowgirl" Wilson will no longer be working with the band or associated with us in any way, shape or form. At all. Period.
Keep on rocking! We have a lot of wonderful things coming down the pike but for now it is time to catch our breaths, get some work done and reboot the system if you will.
May you look down at your feet and find them in scratched up Hunter boots under a ripe beach plum bush picking perfectly ripe berries that you will turn into a divine jam and bottle up for your friends and family and as the light Napeague wind hushes through the pine trees and the warm sun beams overhead, you think to yourself, 'life could not be more beautiful than in this very moment and thank you, thank you, thank you.'
In that moment you are truly alive.
See you in October with bells on,
Nancy
Sold out Galas, Grillhamptons, Chad Smith sunset drum solos, late night Talkhouse shinanagans, custom ray bans, montauk traffic jams, Navy Seals at navy beach, what? Chad's still in his solo, a grouchy drunk man falling on my PA and busting up Neils accordion, talking with Lucinda williams about life and song writing in the basement of The Space and pinching myself many times on ride home (did i die and go to heaven?), private events that end with a drive home under the black green foliage of lush summer trees with the top down on my old cadooo… what else… a woman spilling a glass of wolffer Rose' directly into the circuit board of my fender deluxe amp, surfing said amp while it cackles and burns off said rose, hate Johnny Vodka, love Johnny Pelligrino, broke all past attendance records at Gosmans Dock (whoop whoop… that is until the arctic plunge set in around 8pm), long live fried shrimp when it's hot and crispy and fresh out of the fryer, Surf Lodge bliss with light winds and to the wall co-mingling locals and tourists, 8 year old son coming up in middle of show with arms crossed and declares, "I am ready", me-"For what?" him- "To sit in". Lord. Have. Mercy. (he did great). Clamming. Is it crabbing if you don't catch any? Three Johns Ice Creams, two Ben and Jerrys, One Buddaberry and a partridge in a pear tree. Have not had enough local corn yet and desperately need a day/week to just relax and finish some songs.(PIPE DREAM) Did i say 3 kids? Yeah. so un-rock and roll. I never, in my life, thought I would crawl into bed at 7:15 pm with Ben Gay on my back, two Tylenol in my mouth and consider it the perfect night off. Alas, that is a dead on description of what I did after our show got rained out yesterday. Amp surfing has it's price. Just trying to keep it real people. Anyone that says you can have it all is a LIAR. However, trying to have it all is a worthy fight and I am definitely waging that war. BRING IT ON. All is fair in love, war and babies who are getting their teeth in.
Ok. So, that's currently where I stand with Summer of 2014. I wish I had more time to write more things down but I do not. That is what October is for. Just know that we are digging seeing you all at our shows and it is always lovely when you come up and say hello, so don't stop.
As is custom: May you take time to look down at your feet and see them bare and void of the high heels that you have slipped off and thrown on the passengers side, so that you can feel the pump and the pedal of your old Cadillac arc over a slight lift on an empty back road. Push and release. In that moment you are truly alive.
Bloody fingers and broken guitar strings.
Thanks for all the support, for coming out to all the shows and for the all around love that you show our band. We feel it.
I will update more soon. Promise!
X
N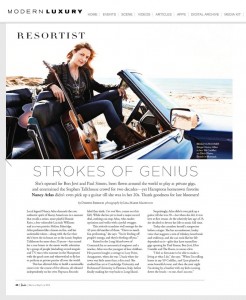 Hey Everyone! Lots going on. Busy, busy, busy. Just got my fresh spanky copy of Beach Magazine and I am definitely feelin' the love from their Memorial Day/June addition. If you have any desire to read the article you can  click the image to the left or go here for a full digital copy of the mag.  I'm on page 46.  Photos by the majestic Lisa-Marie Mazzuco and the article is written by fellow fab songwriter Dimitri Ehrlich.
Aside from that we also just hit 10,000 listens on soundcloud and are gearing up for a rollicking summer. This weekend we will be playing The Stephen Talkhouse in Amagansett, NY on Friday night where we will be returning to our beloved late night slot. Wear your waterproof mascara Neil Patrick Harris! (how badly do I want to see him as Hegwig? Answer: Badly) Our show starts at 10:30/11 and should go for a few rounds or until one of us passes out from the madness of it all.
After that our weekly Sunset Wednesdays at the Surf Lodge kick in on Wednesday May 28th and will roll on through till September. These shows are always rain or shine and start at 6pm. We can't wait to see you all! It's been such a long winter.
I am also back in the studio working on our sixth album, Cut and Run. My goal is to have it out by late summer/early fall. So cracking the whip a bit and getting down to it at the busiest time of year. Viva Vida Loca!
I'll see you all in the front lines!
Dream Big and fly high,
Nancy
I'm back! Wyoming was grand in every way possible. The skyline, the music, the free range buffalo. My pal and fellow songstress Inda Eaton has quite a life out there and it was truly a gracious gesture on her part, when she invited me along for her recent tour.   I wasn't sure what to expect. I have been to many parts, nooks and corners of this world but Wyoming has not been one of them. I'm not sure why, because when I got there it felt like a long lost home. The people were incredibly kind and genuine. The only way I can describe it is that the music flowed openly and I didn't have to win them over… they were in from the first strum. It figures that my original Americana music  would work in a state where every cafe or bar has  a sticker, hat or coffee mug with a cowboy riding a bucking bronco.  So the trip had many highlights… to many to mention really, but if I had to pick just one it would be the moment  I debuted a new song that I had written earlier in the day called "A Cowgirls Heart".  It had been influenced by some East Coast lassie friends of mine who have lived in Casper, WY for the past decade and adapted the free spirit of the west. My modern day Annie Oakley's  if you will. To any extent, I took a much needed solo walk along the Platte River and started scribbling down what I thought was just a little poem. Something kept pushing on through, as certain songs sometimes do. A verse here. A tighter sentence. A slash, a nip, a tuck.  It's almost as if the song channels you.  To any extent about 45 minutes later the song was done.
I went back to my hotel room and grabbed my guitar. A pretty little melody hushed out and I thought, 'That will do.'  and got on with my day.  Then I started thinking, 'How often do you get a chance to play a song that you wrote that day, in the town you are staying in, for people that inspired the actual tune ?'  The answer is- not very often. So it was a throw of the dice.  Toward the end of the show I went for it and the crowd responded so lovingly. They stood up at the end and basically said, "YES! WE LIKE IT!". Just too cool. I sold out of CD's, shook some hands and even got a few hugs.  It was just a very wonderful night that was needed on so many levels. As a musician you can sometimes get in a rut. How truly liberating to play to a crowd of people I don't know and have them respond the way they did. It was a gift.
This week I bring it back home. On Saturday May 17th, Talkhousefest is once again upon us and the lineup is downright dreamy. This festival celebrates the beauty and the bliss of the professional musicians on the East End.  My band will host and sit ins include: Gene Casey, Winston Irie, Joe Delia, Inda Eaton, Telly and Brad of Hopefully Forgiven, Kathleen Fee of Celtic Cross, Thomas Muse of Jettykoon, Klyph Black, Dan Bailey… The list goes on and on.  This is the closest we will ever come to having a musical union. The vibe on the stage is just pure magic. It truly is a DO NOT MISS EVENT so don't say I didn't warn you. Here is a photo from last year. Take a fork and dive in.
Jettykoon will be playing a very cool acoustic groove rock show at Innersleeve Records on Mainstreet starting at 6pm. This store will be having live music all summer so what a cool way to get to know about it! The JK's will rock you and then hopefully join us for a song on the main stage. The Talkhouse show starts at 7pm and kicks off with Gene Casey and all his divine deep 'best of the best' singing. He has another gig that night so he will be in and out but my point is GET THERE EARLY.
Ok. Thanks for checking in. New dates coming in every day so check out the calendar. As is custom: May you look down at your feet and find them sitting on a chaise lounge of someones backyard as you sip a small glass of neat Honey Jack Daniels to wash down the most amazing piece of buffalo hot off the grill. In that moment you are truly alive.
Peace out home skillets,
Nancy
—————————————————————————————-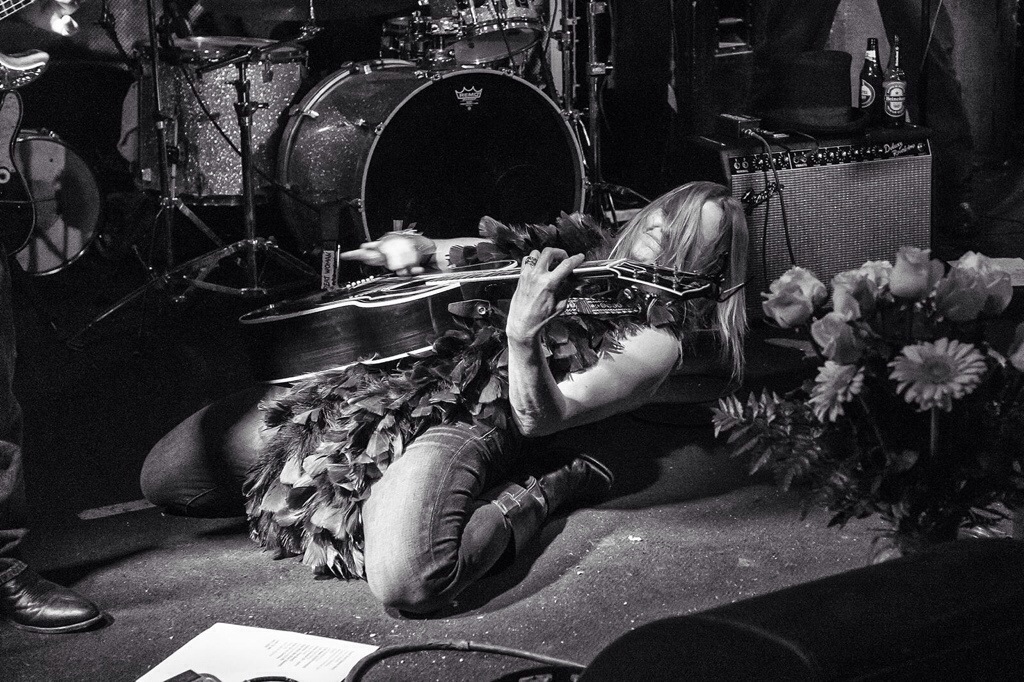 photo by Todd Bernard 04/19/14 I like to call this one You, Me and a bag of donuts
Holy birthday bash 2014! Thank you all for coming down and getting your sweat on.  We had a bit of  "camera crew wackiness" that night with a 4 man film crew and the two floating go-pros.  It's always a roll of the dice when you have people filming your shows. Sometimes it can suck the vibe right out of the room and then you have bored people being filmed with a pissed off band. Good times! ha ha.  So it was truly a gamble to have them come down on what is always one of my favorite nights of the year, the Johnny Nancy Birthday Bonanza.  The good news, or should I say EPIC GREAT NEWS is that the room was thumping and the band was on fire and the film crew was stellar and bopping their heads so the needle has been thread and everyone is happy across the board.
We were filming two different things on Saturday. The first one was a pilot for a Talkhouse version of Austin City Limits. We are representing the "fun, kick ass  band you haven't heard yet" and will be paired with one of the big rollers that come through in the next few months. Fingers crossed!  The second thing that was going down was that el film makers extraordinaires also needed opening audio for an upcoming film about the Wounded Warrior Project.  I have been involved with these fine men and women for years so it is a real honor to be apart of their film. So that's the scoop. The whole enchilada. You, me and a bag of donuts baby. Cue the boa and back bend guitar moves. Just for the record, I didn't break the knee dive out until AFTER they wrapped up but we all know the good shit always happens when the tape isn't rolling. That's why we all love going to live shows. Or at least why I do. Live music, at its best is a fleeting experience that rolls through you and reminds you that you are oh so very alive. Trying to catch that on film or tape or whatever the hell they are using these days (hello PONO neil young) is the ultimate goal. The pixie dust I call it. Bliss. Rare bliss.
There has been a lot of things brewing lately.  I can't write about it yet for legal reasons but 2014 has definitely been a beautiful ride thus far. Slow and steady baby. My head is down and the lake is clear. The summer calendar is stacking up and it's looking like we will have another wild and crazy summer. As I get a tick older it's starting to feel like I'm in that Groundhog Day movie with Bill Murray. Cue the Tourists. Bad Drivers. Sun. Rock and Roll. Bake till crispy. Turn over and it's snowing again. No. No more snow. Till like… forever. Please let the spring flowers just open! There isn't a New Yorker I know who is fully convinced that winter is over yet.
So  while I have your attention can I just show you one of the coolest gifts I've received EVER?  It's a bottle of Gentlemen Jack with the lyrics to my song "Last Call For Alcohol"  etched on the back  and given to me by uber fan's Ellen and David. CRAZY JAYZEE. I love it. I mean wow. Santa could take lessons from those two. Truly.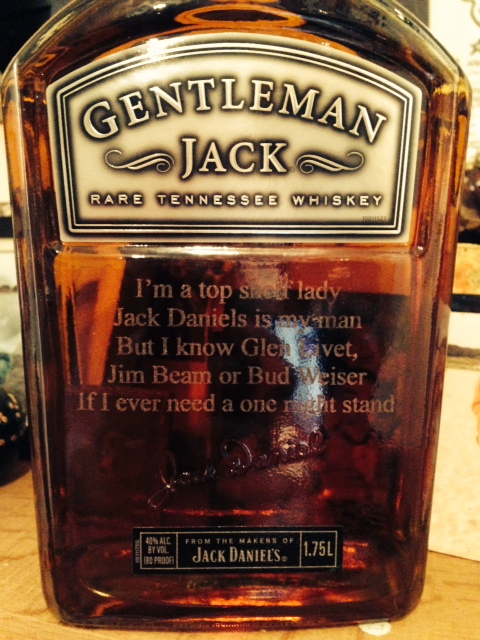 So, there is a lot to talk about and even more to do, but right now I am trying to update this page from my ipad and im ready to throw it across the room. It keeps merging words and randomly capitalizing things. SaYWhat? wHatdoYoUMEan it MErgeswOrDs… Super annoying. So I will just say this: Buckle up cause summer 2014 is snorting at the gate and ready to run. Have you seen my logo? Enough said.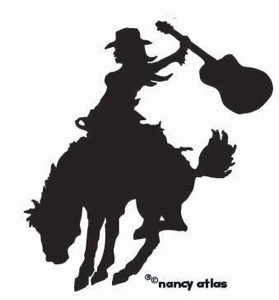 As is custom : May you look down at your feet and find them them side straddling your thighs as you do a freak Frank Zappa Yoga pose with your guitar huming over, around and above the giant brown turkey feathers that bless your birthday neck. In that moment you are truly alive.
Peace out home skillets- I'm off to Wyoming next week to eat some meat and spank some cowboys on a little mini tour but when I come back it's game on for our second annual Talkhousefest. That sonic m80 hits the stage on May 17th.
Broken Guitar Strings,
Nancy
P.S. If you have any desire to read any other blog entries from this year you can do so by clicking here: WINTER 2014
I have also added a slew of BAYSTREET 2014 FIRESIDE SESSION REVIEWS on our "Raves" page or you can just click the link.