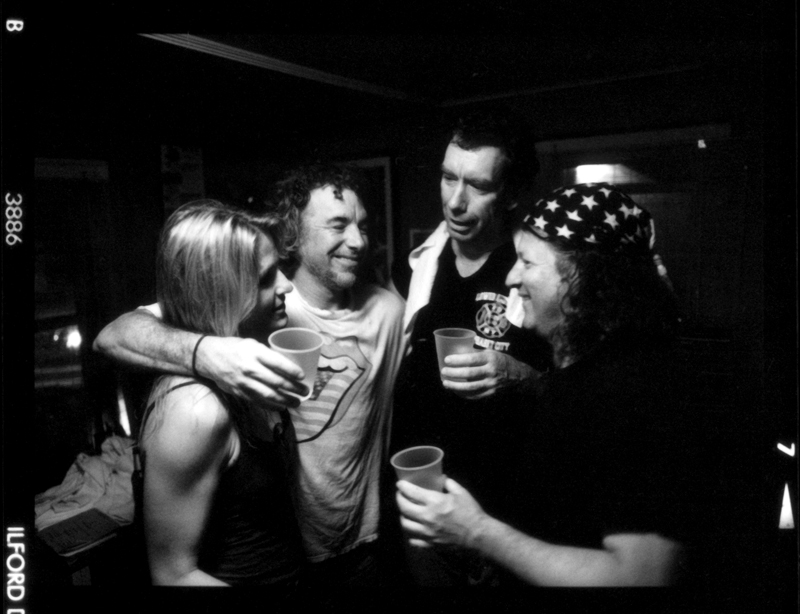 One thing my band and I talk about often it how lucky we are. How much we appreciate the effort our fans make, show after show, time and time again. The word of mouth. The cookies you bring us or the unseen emails post show. The time you take to get there and that passion you bring. Year after year. Every night. Every single time we play.  I would like to think you feel it too, that when we step on the stage you know we are going to give you everything we've got. That it's always a new experience and that you don't want to miss it. It's what we do and we never underestimate that or take it for granted. So let me start off by saying THANK YOU for such a stellar year so far. Another one coming to an end and oh what a year it was… (see photos below).
So yes my friend, we have been busy and because of that I have never been happier to see barren trees in my life. The sun is setting at 4pm you say? BRING IT ON. Our band is officially in studio mode of late and enjoying a little downtime after a never ending string of live shows that started this past January. This year has been another whopper. 2016 has been good to us for sure. It sprinkled down some Rock and Roll magic pixie dust at Levon Helms Barn this fall, Chad Smith (RHCP) & Taylor Hawkins (Foo Fighters) face melting drum off with our band this summer, non stop Stephen Talkhouse, Surf Lodge,  Barons Cove gigs… Wyoming's tour this past spring with Inda Eaton and starting it all off  with five for five sold out shows at Baystreet.  When you see it on paper, in a condensed form, it all seems like a dream but my calloused fingers assure me it is not. That shit went down and it went down hard week after week. I love it but it is time to put the antenna up and start writing.
So that is why our shows have come to a bit of a halt. If momma doesn't pull the chord every now and then well, we just keep rolling through. I promise you that we are taking the break to finish up our next disc, "Cut and Run" which is slated to be out in the Spring of 2017 and I am also chipping away at a few new tunes.
Until things pick back up in the spring here are a few photos, videos and articles from the last 12 months.:
The version of Jolene at Levon's Barn is a bit shaky as it was taken from the mangers phone but you get the gist. It was a live feed so it's fun to see people that have never heard us before chime in.  It's a tick sloppy and raw but Clark chomps down and Klyph does a nice job filling in for a flu ridden Johnny Blood that night:
"Jolene" live at Levon Helm's Barn in Woodstock, Oct 1st, 2016
Original "Lost Highway" at Talkhouse featuring Skip Krevens
Original, "My Love" at Guild Hall
 Our original "Last Call for Alcohol" with the Uptown Horns at Baystreet. (the horn part was written by the amazing Arno Hecht on Sax. unexpected treat and so fun although looking at this video we are all hanging on by our teeth as it's the first time playing it!)
If you want a little something to read here is a good one:
ARTICLE:    Art for Art's Sake at Levon's Barn in Woodstock
It's not everyday that a newspaper sends staff and photographers up to follow a local band so this article is greatly appreciated with a big shout out to Michael Heller, Gavin and Kathy Menu.
Wishing you all peace, love and broken guitar strings.
See you in the front lines. Wear your waterproof mascara.
X
N
PS… one last thought: A heads up that our Fireside Sessions Series at Baystreet Theater, sponsored by the amazing Dan's Papers… is almost half way sold out and we announced the guest's YESTERDAY so if you want in … now would be a good time to buy tickets. 300 seats and they all will sell out. Like … soon. (I'm not being a cocky dick – I am just stating the obvious… since our last 15 shows have all sold out there. I am really being more of a cocky dick friend, which we all need one of and tonight I'm yours. ha ha ha. Anyway… we hope to see you there sucka).