March 18th, 2015
Top of the morning to you! Yeah.. I know, I know… St. Pats was yesterday but everyone should have a little Irish in their day, every day. I am Irish. Part Irish, part French with a solid dose of Chec (thus the jaw). Which basically means I can give a solid head butt without wincing and cook a creme brulee that will rock your world. To any extent happy, happy, pappy. Nothing say's Happy Post St. Patricks day like… drum roll please…  BILLY JOEL! Ha ha ha. Yep. Henry Haid of the Billy Joel/Twyla Tharp full on broadway production "Moving Out" fame (you can rest assured Henry doesn't suck if he was the main cat on that show) is up to bat this week for the second to last installment of our Fireside Sessions. He will be rocking everyone out as our Guest du jour on Fri March 20th and I can assure you that there will NOT be a bag pipe version of "Italian Restaurant". The only one that could pull that off was Billy Campion and he totally owned it and took us to another world (see below)  but Billy Joel and bag pipes would kind of be like lemon and milk on a hot day. No bueno.
March is pretty much the time when we book up for the summer and things are boiling over here like a big ol' bait ball. This will be our first summer that we will be playing the coveted EARLY slot at the famous Stephen Talkhouse. We have held court at the 11pm -4am wild west mayhem party scene for well, a VERY long time, and I just felt in my bones that it was the year to change it up. Peter Honerkamp, booker/owner, would have had us playing the late slot till we all had dentures and were being wheeled out with  oxegen mask's but alas it was time to get my soul train on and play my own music. I am hoping that one or two of our Fireside Guests will pop down to put it over the top but for now… we will see you at 8pm this summer at the Talkhouse .. something new..  and not 3:17 am with scotch dribbling on your shirt with sweaty pipes overhead.  We've got some new places coming in as well so all good.
In April however, things will lighten up a bit for us as we are heading into Studio land for our 6th? 7th? Album… I lose track. All I know is that it is overdue and needed. So I am buckling down and going to try and get some pixie dust on tape before the summer winds blow. Fingers crossed.
Love to you all. Remember… go buy yourself some flowers. When you wait for other people to do stuff for you … most of the time it never happens.
Broken Guitar Strings,
Nancy
March 11th, 2015
Hey ho. Things are perking up. Another round of Fireside Sessions are barreling through. Last week was the ethereal Billy Campion and Billy Ryan of Bogmen fame and next up to bat is my pal Danny Kean. It is such a treat to have my pals drop down and sit in with my band and because we have all been doing this for a few years at this point it is completely refreshing to get your ass blown away by something you don't expect. Last year Danny took 300 people to church with his rendition of "Lean on Me" and I can't wait to see what he whips out this time around.
I'm a little crunchy from a month abroad with the family and jumping right back into the frying pan with two back to back shows last week so I'm going to keep this brief… THANK YOU for checking in. Thank you for coming out and thank you for supporting original music.
The March winds are a blowing and the winter webs are about to all be broken. New year. New locations to play out. Time to spread the wings a bit and fly.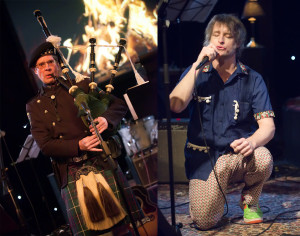 More in a few days when I've got my bearings and can begin to describe the feeling of finishing some new tunes, playing with some old friends and getting down with a french bagpiper. You can't make this shit up.
Peace, love and broken guitar strings,
Nancy
JAN 31st, 2015
Good morning. How are you? Thanks for checking in.
Today is cold and windy. A tree snapping kind of day. The weather channel mentioned that there may be a few downed power lines from the ice and snow build up that has decided to cling like frantic frozen static to the the wires. Out here in Montauk, it is the perfect kind of day to exhale. I am a little pig in my brick house watching the prickling bitch of winter dance about. I will not stuff 20 bucks in her g-string and she is pissed about it. As much as she throws her white mane over the rooftops and under frozen tailpipes she will not get my attention. I am in a different place. On the other side of the coin if you will.
It has been a long four years for me. I've had two kids back to back, all the while trying to maintain a deep and real relationship with my music. When I had my kids there was a part of me that passed on. As a songwriter, my music was always trying to fill a missing part of my heart. I personally relished in the crack and the void of it all when i was younger, pouring untouchable relationships, failed friends and whatever I could bemoan into my lyrics. Then these little beings come into my life. The void healed up. I was not expecting it to be complete and missed a bit of my lone wolf howl. A wolf, you see, howls differently when her heart is whole.
I mention this, on this fine blustery morning, because for the past month I have been feeling very alive. Very connected. Very in tune. The tank is full, the calendar clear and I have been ready to drive, drive, drive. How blissful to then add a posse of my friends whom are all lightening bolts of talent in their chosen passion and then on top of that a full house. It just does not get any better. Each one of my fireside session guests in this past month has inspired me. Has taken me to a new place. Has shaken me a bit and re-cracked my heart in the best way. There is still blood to be spilled over strings and dented mics. I have been so appreciative of it all and so very present.
If you have come to any of these shows I thank you. A real true thanks. I have done this a long time and I will tell you that the Baystreet Audience is just about the most loving, attentive, fun crowd I could dream of. Ultimately we are all in it together. We give love, you give love, we give more love, you give more love, I mention a cat sitter, you all groan (That's an inside joke to any Bill Sims Jr attendees) so on and so forth. In short kid, we are nothing without you.
So off I go for a bit to take a hiatus and actually attend a BBQ on a Saturday night (If this was Family Feud and the question was "What do working musicians never get to do?" The number one answer would be: "Attend friends parties on a Saturday Night". 63 points. Promise. Anyway, thoughts are brewing and clicking away already for our March Shows. My head feels like Snap, Crackle and Pop. Our guests are nothing short of delicious. I cannot wait for the next round to just smother you all with their musical goodness. They are better then my beach plum jelly and that says a lot.
May you take time to look down at your feet and find them, on a cold winters morn, in purple furry slippers that match. Two of a kind. Perfection.
Be safe and I'll see you when the March winds blow,
Nancy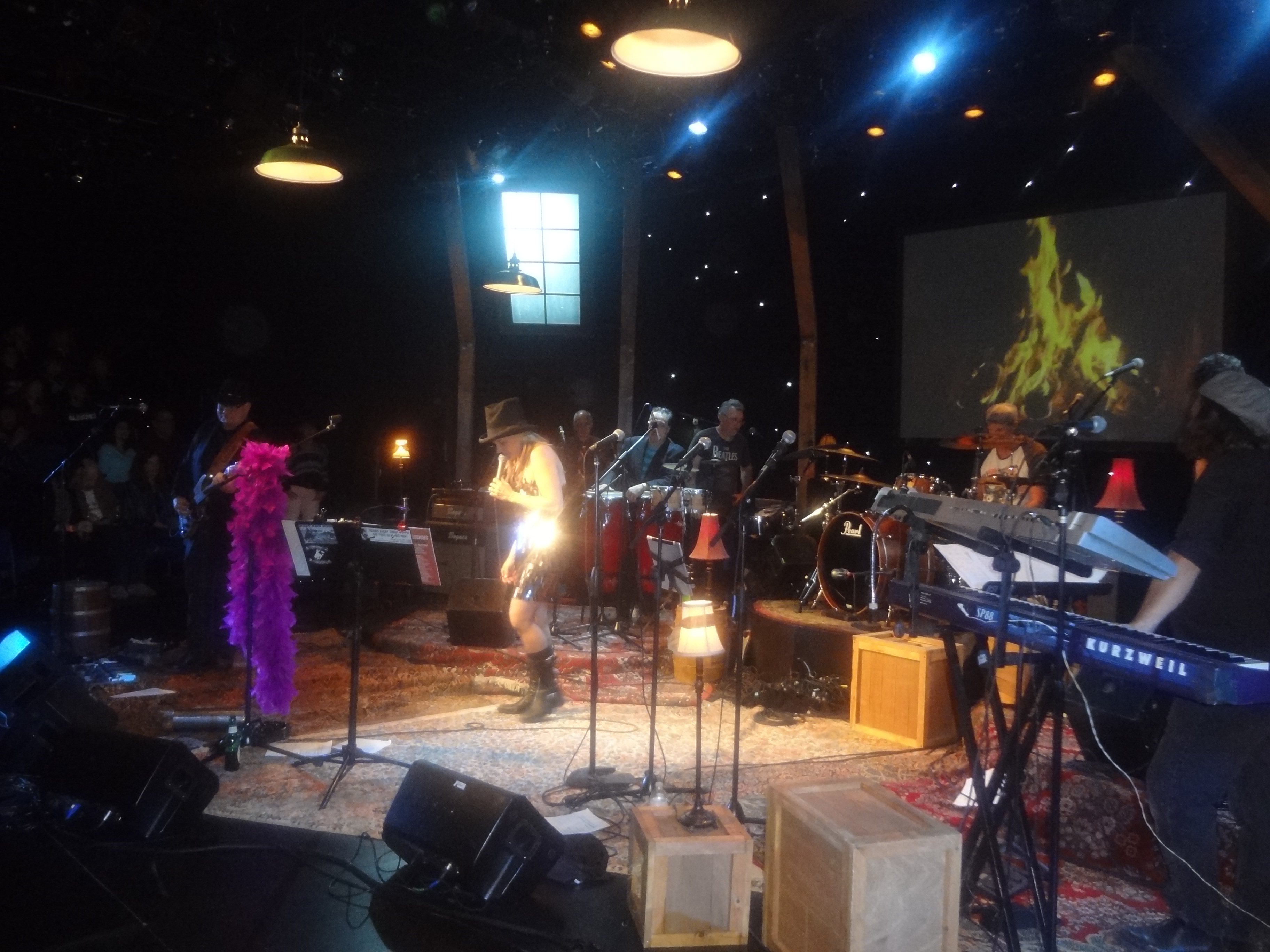 Bing Bong. It's 2015. Whoop, whoop. We did it. We got through a mobbed out New Years Eve Talkhouse show (biggest New Years ever mostly due to following a slamming set by GE Smith & friends) and the first of our Fireside Sessions with our super-kallo-fragalistic guest, Chad Smith. I spent most of yesterday in that blissed out state that you get from completing something. Like what I would imagine a runner feels like after crossing the line of a marathon or maybe an actor feels after the last curtain call of a show. It's all good baby. It's all good.
This morning I am down in my studio catching up on work and putting the final touches on this weeks show which features horn player extraordinaire Clark Gayton. The weather forecast says that there is an Arctic Plunge headed our way but I assure you it will be hot and steamy at Baystreet Theater for sure this friday (Jan 9th). In fact I should probably talk to the front of the house about having a Coconut Rum drinks or something to that effect since this show will have a Reggae/Funk vibe run through most of it. A little nutmeg anyone? Clark is a monster horn player and I am so excited to bring him out and let you feel his funk baby. I am a fan for sure.
Ok. I gotta roll. I'll update more later. Here is a little behind the scenes photo of Chad and I dressed up pre-show after raiding the Baystreet Theater wardrobe closet.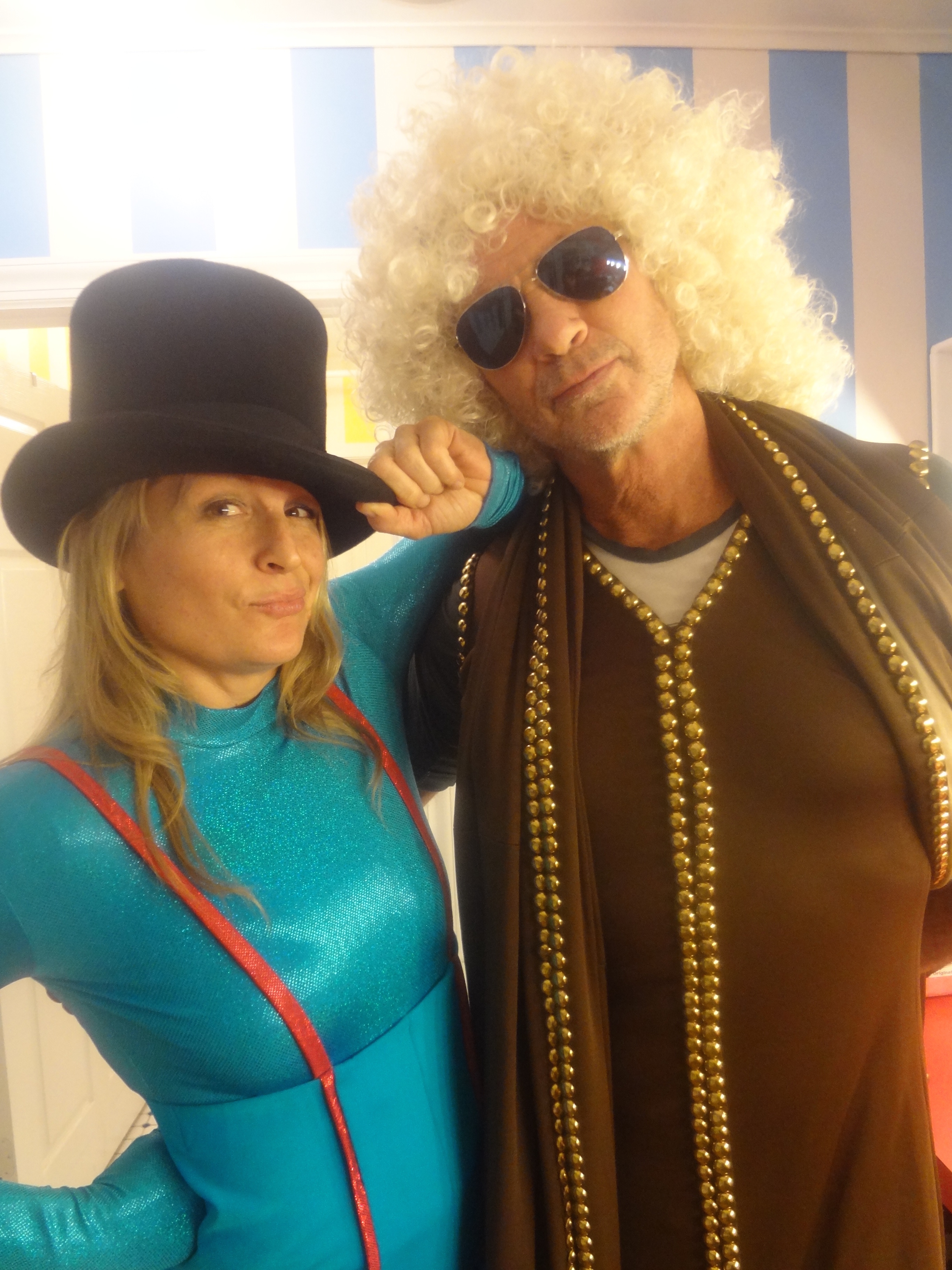 I think his is from either Tommy or Hair and I believe mine is either from Pinball Wizard or clockwork Orange. I can't remember. All I know is that the guy who does Costumes at the theater pretty much hates me. Ha ha ha. I wish I was kidding but I'm kind of not. I'm OK with that though. No disrespect to the costume man but really… sometimes you just have to break a few rules in this life.
May you look down at your feet and find them up in the air as you attempt to strip off your pinball wizard outfit in front of 300 people while not really offending any of them and your costume gets stuck on your boot and you flail like a dying fish on the carpet in front of them muttering in back of your head, 'please Lord… please… please just let this damn flipper outfit come off and if it does I will be a better person – I swear!' – In that moment you are truly alive.
Peace out home skillets,
X
Nanc
P.S. If you have any desire to read any other blog entries from this year you can do so by clicking here: WINTER 2014
I have also added a slew of BAYSTREET 2014 FIRESIDE SESSION REVIEWS on our "Raves" page or you can just click the link.