There are some years that glow musically and if I don't play one more damn note for the rest of 2015, this year will already  rank among one of my favorites. We started out with a bang for New Years, then sold out a bunch of shows at Baystreet Theater from Jan-March. Took a small break and then headed to Wyoming  in April with The Inda Eaton Band for what can only be described as a Sonic Bliss Tour. Lots of four part singing and hearing old original songs in a whole new light. Then came this luscious summer complete with rolling, undulating days of sunshine back to back with light winds and heavy crowds. Yes, 2015 has been a keeper. Off the hook. The brass ring. The blue ribboned pig.
Musical Summer Highlights include:
Writing a song called  "The Tale of Johnny Load"  and finishing it one June morning then playing it, unexpectedly, that very night to the men who inspired it (John Aldridge and Little Anthony). By the first verse  the entire packed out crowd at The Surf Lodge just kind of stopped talking. A stillness swept over the place. Will not forget that for a long time. Any gigging musician has to learn how to work with and turn the volume of a room but when you have a raucous crowd that falls silent due to a song… for many of us that is as good as it gets.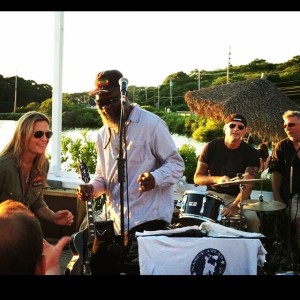 More highlights? How about every time Chad Smith came to sit in with us which was about 4 times? (Good times for us.. not so good for Rich's snare). Or how about Surf Lodge Wednesdays in general?  It was a bit of a love fest this year. Our June shows were packed out like August. People getting there an hour early to stake out their chairs and tables. We got to play our original tunes, the sun got to set, special guests just kept dropping in. It became like a weekly block party with really good margaritas. It was a slam dunk of a season there. Truly. Thanks for supporting the arts  if you came down and partook!