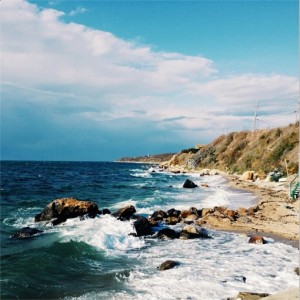 So here comes November in all it's icy glory. I am feeling it today. Maybe because my fish pond is frozen or maybe because I am about to buckle down for an East End winter and technically it's still fall but feels like butt crack January this morning.
Cold. Blue. Sky.
Naked. Buckled. Tree.
Hungry. Bearish. Nancy.
Cold weather always makes me want to eat and sleep. I attribute this the fact that I am an animal or maybe just looking for excuses to eat and sleep as I do hold both hobbies very close to my heart. I have never been one of those skinny snow pixies that bounce around New York City with a starbucks in their hand and a dose of holiday crack in their elfish prance. No. Not me. When I lived in New York City, many years ago, I had the chuffs of my coat up around my neck and the stone face a young wanna be poet while the wind took it's merciless toll around my body. Picking and cutting at any exposed skin like some invisible nordic mosquito. I'd swat at my head but my frozen hair would just blow in frantic angles only bringing the cold air closer to my scalp. New York City cold is just brutal and unforgiving. It is a money cold. As in, you need to have a lot of money to make it suck less. Warm fires cackle at uptown haunts where they serve divine caviar and champagne. Fizzy bubbles while the snow drops. But down in the gallows and the back street bars it's just a dimly lit and flat cold. I guess at the end of the day I could never really connect with the city in the winter… it always confused me… all this buzzing energy and still no warmth.
So it was a no brainer to live in the country. Or more specifically near the sea. There is a balance and a bliss. A quiet. A beauty in the off beat months. A shut down carnival. Montauk is a place where when the cold wind moans you just let the sky cry it out and then under your breath tell yourself that in time it be alright. There is a natural order. A time and a place. Winter is meant to be long for this reason.
With this in mind, I am delighted to tell you that I will be playing a winter series at Baystreet Theatre in beautiful downtown Sag Harbor this January and February on Thursday Nights from 7pm to 9pm. I have named it "The Fireside Sessions". My goal is to create some music that will warm me, inspire me and make me look forward to each Thursday night. If I do my job you will feel the same way. Each week I will have a special guest that sits in with my band. It will range from original music to off the wall covers that our 'guest' may want to do. It's a spanky white page and I am sharpening my pencil to get to work on it. Gary Hygom (Baystreet manager) and I are already having some very creative and fun discussions on lighting and design. A touch of stevie nicks with a smatter of back woods homey feel. Fingers crossed it will really be a treat. At the very least it will all help us to get through a few inevitable grey, cold days together.
Aside from that we have three shows coming up at The Talkhouse to bring this glorious year to a close. Thanksgiving Friday, Dec 20th and NEW YEARS EVE!!! I cannot wait.
I am feeling very inspired lately and just so grateful to all of you that are actually reading this page and checking in. I don't know if its the fact that I am just delirious with lack of sleep from having a new baby or maybe, just maybe, ready to buckle down and get back to what I do… which is make music.
May you look down at your feet and find them locked in a pose on the dancefloor as your hands sway overhead and the music runs through you and an old friend shifts and turns on her own ride and you can feel the joy of having overcome some obstacle and just be in that very space where you are happy to be dancing at all. In that moment you are truly alive.
Rock and roll. Let's ride this pony all the way home to 2014.
Nanc
So that was fun! Wow. Last Friday night was truly a warm and fuzzy sonic love fest of all things NAP. Thanks to everyone who came out to fill the rafters and get the bar all hot and sweaty. It took a song or two but we definitely blew out a few pipes and scraped away any rust that may have formed on my brain from the last three months I've had off in baby land. My favorite moment was when we decided, at last minute, to have Johnny walk on stage to start "Curse and a Blessing" solo with his electric guitar. The thought was that he would walk out, pick up his guitar and start playing and then the band would slowly emerge onto the stage behind him. Once he was out there, Brett suggested NOT going out. Like AT ALL and leaving him alone on the stage. His perverbial black knickers in the wind. We were all laughing hysterically at the thought but in true good person fashion we quickly decided that this was cruel. However, It was a great way to walk on stage… that is, laughing. I've always said our band has a better time off stage then on. We are five of the strangest musicians that you would never think to put together but somehow we DID come together and here we are 18 years later, still rocking and as importantly… still laughing.
There is a lot more to write but for now let me focus on the important stuff. Please come down and see us at Suffolk Theatre next week on the 15th of November with Gene Casey and the Lonesharks. Ticket info is on our "GIGS" link and you can buy it in a jiffy. It's sure to be a killer night.
Another great show is coming up as well. If you live in the city, come check us out at one of our home away from home bars, The Parkside Lounge, at 317 East Houston on Thurs Nov 21st. Our show starts at 7pm ends at 9 and will be the perfect night out! I think it's three blocks down from Katz deli so go get your pastrami on and then hit us up for a power set. Love it.
Let me end by thanking any and all of you who nominated and or voted for us in Dan's "Best of the Best" contest. We always appreciate the support more than you know and it's always a delightful surprise when we get nominated. I owe the North Fork a concert or two next year since they seem to be voting for me and I've only played there a handful of times. So to the North Fork I say to you, get ready because I will be coming your way!
What Else…. I am trying to set up a weekly but still working out the details. With my track record it should be sussed out by fall of next year. XX
I'm bringing back my ending sentence tradition for Peter Zendt and that is
As is custom: May you look down at your feet and find them on a paddle board floating over beds of sleeping scallops in the clear glass of a November Montauk ocean while a flock of geese beat and honk high above. In that moment you are truly alive.
Peace out home skillets.
Much love,
Nanc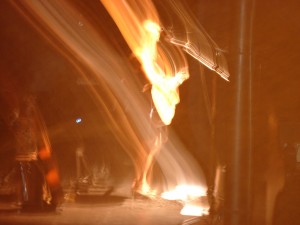 Hey! Ho!
We are back.
Friday, November 1st will mark our first show back since August. Set the date. Crank up the wagon and git there! Let the fall winds blow baby… because once you're inside the Stephen Talkhouse you will be greeted with warm twinkle lights, a flowing tap and two hours great live original music. Yes. Yes. Yes. See. You. There. You know you want it! You KNOW you do. Put it in the calendar right now. This very instant. Set the title to "HOT FUDGE PIE". 8pm. Friday Nov 1st. Talkhouse. I'll be the chick with the shiny spoon ready to dig in.
8pm. Early Set. I repeat. 8pm… 8pm… 8pm…
Hot Fudge Pie.
Over and out.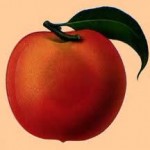 Hello. Greetings. Salutations.
I am in my studio today after what seems an eternity and I write this with a wriggling three week old baby on my lap so if my spelling is off I really don't want to hear about it. You try typing with one hand… its right up there next to chewing with three teeth. Happy to have the hand at all but this post will be limited due to a strict mandate set up minutes ago by my pinky who is getting the lions share of the typing.
First and foremost a big thanks for all the well wishes, the cards, the flowers and even the occasional delivery of ninja brownies that randomly appear on my front door step. So much love people!! Thank you. Our new baby, Tallulah, is doing very well. She is a little peach. A little screaming, banshee peach but a peach just the same. Not even a month old she has bigger lungs then any of us in this house and we have all taken notice. She will not be denied nor should she be. If I were an honest woman I would tell you that she is absolutely kicking my ass and on any given day I look slightly like a cross between a homeless person and a disheveled Martha Stewart. However I am not an honest person so I will just tell you that it's all going well and the baby is easy as pie. A sweet, screaming, midnight, banshee peach pie. Holy Mavis.
We are back in November. Promise. Can't wait. Ok… my pinky is starting to hold up a strike sign and one step away from skyping the pinky union.
I'm out.
X
Nanc
Hi This is Kate. I help Nancy out with all things NAP. I am happy to report that Nancy Atlas and her husband Thomas Muse welcomed a beautiful baby girl,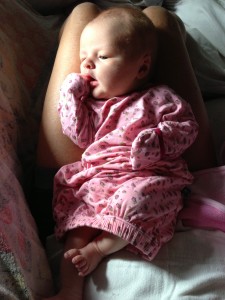 , into their family on Tuesday August 27th, 2013. Nancy and Tallulah are both happy and healthy and recovering at home. As much as Nancy would love to be jumping from amps and charging a Labor Day Crowd it will be two months before she returns due to post op surgery requirements. She would like to thank everyone for all of the positive thoughts, cards, toasts, presents and billboards.
Her family feels a deep connection to their community in Montauk and is just over the moon that everyone is doing well. She will be posting upcoming dates in the next two weeks but for now she is doing just what she should be doing, taking a well deserved break. She wanted me to post a few photos that came in this past week and just say a heart felt THANK YOU to all.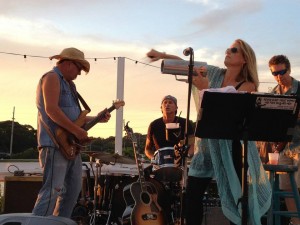 Summertime and the living is easy. Fish are jumping and Chad Smith is sitting in, calling a hard rock song that will require every ounce of your vocal prowess and you jump in because hey, it's Chad and well it sounds like fun and you love the song he's starting to bang out on the cowbell but hey, hold up… your super pregnant. And old. And, like, having a baby in four weeks. Or maybe four minutes. One will never know. Welcome to life as a band leader. Close your eyes, go with your gut and call upon Robert Frost and taking the road less traveled. Me, Chad, my band, Little Baby Shagwong, lions, tigers and bears. Here we go down the yellow brick road of rock and roll or really live music. Once the clock ticks and your in the musical tunnel there is no saying what will happen before you come out the other end an hour later. In this case it was the right call. A roll of the dice and on to the next song.
I am happy to report that I did NOT go into labor while playing "Honky Tonk Woman" or "You're Gonna Miss Me When I'm Gone" or even "King City" for that matter. Chads epic sit in drum solo on "Oye Come Va" didn't even elicit a twinge. So we are good people. It's all ok. Momma Nanc has her priorities straight and is taking this pony all the way to home base… safely. This entire ride of being pregnant AGAIN through ANOTHER summer has been an unexpected joy ride (for the most part). My last pregnancy (aren't you glad you came to my music site and I'm talking about this shit? Before you cringe, I suggest you go to the freezer aisle of King Kullen, pick up a giant turkey and strap it to your stomach. Walk around with it for a few months. Live in a house, albeit a beautiful house, but a house just the same with A LOT of stairs. After about two weeks get back to me. I'm sure you will have a lot to say about turkeys and straps and stairs.) SO where the hell was I? Ahhh yes. My last pregnancy was brutal and this one is not. So I am relishing in my roll as a happy little guitar playing elf/gnome/troll (your call) who is just so relieved to not have carpel tunnel for six months and basically able to feel things instead of having dead hands and fingers that could flip pancakes off a hot griddle without even a raised eyebrow. Yes. My hands can feel. I can strum and this makes me happy. I'm also a lot more active then the last time. I wouldn't bet on seeing me jump or an amp but I am definitely doing the groundhog shuffle on a regular basis. (there are no cool dance moves when you are pregnant. It's not possible. So you either embrace your Caddy Shack ways or you stand still). So yes, I am happy. You can see it on the stage. You can hear it in my voice. Then hopefully that makes you happy as well. I look out and see you happy and well that makes me happier…and you don't need to be Einstein to see that the circle swells and grows.
I am one (or maybe two) shows away from completing a pretty solid run. I just want to say thank you to all of the supporters. The show attendance has been off the charts and we appreciate it… never take it for granted. So thank you. I love you all and keep on rockin in the pee world. I mean free world. Oh man… I've GOT to stop thinking in preggo terms.
Peace out home skillets,
Nanc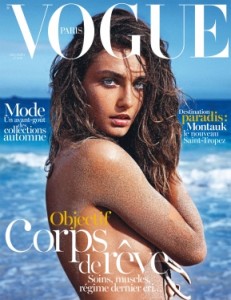 Oh my lord. Ok. I think it's Tuesday which is good because it means I'm off and the sun is out and there are light northwest winds blowing. By all accounts it is absolutely and positively DELICIOUS in Montauk this morning. The beach is empty and the sky clear. I took a long walk and soaked it all in because quite honestly… it probably won't be this quiet again until September. That is unless it's a foggy summer (shut your mouth!) and in that case everyone will get a dose of what can only be described as reality. I have no intention of being a Debbie Downer but the fact remains that Montauk, as a town, is a fickle bee-atch. She has graced us with three back to back epic summers of sunshine, ice cream and bain du soleil. Everyone has been flocking here like a long lost mecca of sand and sea but for those of us who have lived here for a while, well, we know her dark side too. When it rained over Memorial Day weekend and was witch titty cold out, a majority of locals sluffed it off. Down at Herbs Market you heard "Oh yeah, cold and rainy. 15 to 20 degrees colder than East Hampton. Foggy here and sunny there. Yep. Been there, done that."
This is nothing new to us. It is, however, new to French Vogue who has declared Montauk the "New St. Tropez". I shit you not. Don't believe me? Then take a closer look at the cover that is above this post. Read it and weep baby. Or don't weep. Be joyous. Laugh. Shake your head. Spank somebodies ass. Whatever emotion strikes you. Most of my friends who live out here are laughing because we know a few things that French Vogue does not:
1) St. Tropez does not have Phil Berg. Phil is a local legend who drives around on his motorcycle with a Viking Horned Helmet with two beautiful dogs sitting in a yellow milk crate. It is beyond me why William Wegman has not done a book on Phil but there you have it. When Phil is not cruising in all his Horned Helmet glory he can be found cruising a 70 person school bus that he sells wood from in the winter. There is not a whiff of goat cheese or grey poupon within a mile of him.
2) In St. Tropez they dress better. It hurts me to write this as I love clothes. I do. But somehow when I envision the local St. Tropezian I see big Jackie O' black sunglasses, a size 2 pleated orange beach dress and stylish slip on shoes. Counter balance that with the outfit I was wearing yesterday: Hunter Boots, Grey Sweatpants and a stained sweat shirt that said "Montauk" on it. Trust me, I didn't set out to wear clothes that are one step short of a Jerry Springer Guest, but when you go oystering in the morning and then weed your garden and take the dog to the beach well, one must be dressed appropriately for the weather. Sweatpants and montauk go way back. There are even pictures of Indians wearing them. Ok. Thats wrong but they do go ALMOST that far back. It's just cold and its a sea blowing cold so you can't pretend that the Burberry Jacket is going to cut it. I will say that there has definitely been an influx of fabulousness strutting down the street of late but more often then not the Fabuli are sighted chasing after their blown off fedoras like a reject opening of the Mary Tyler Moore show. For many, many, many years the staple summer outfit for an adult male was wife beater white tee shirt with bad sun burns lines that don't match said tee shirt and little kids with either mohawks or barber shaved heads eating ice cream beside him. That includes the little girls! Those people are getting fewer and far between but lets call a spade a spade… There are no wife beater tee shirts in St. Tropez and your average neighbor over there is wearing Gucci not Grundens.
3) Last but not least. Yachts vs. Fishing boats. Ummmm… need I say more? The Yacht business has definitely gotten bigger out here but there are only so many slots in Montauk because a majority of them are being used by Commercial fisherman with boats that have names like, "The Crusty Crab" or "Aquaholic". In St. Tropez the boats don't have these names. They just don't people. I rest my case.
You might be asking yourself, "What the fuck does this have to do with your music?" and I can tell you, "absolutely nothing". Sometimes you just need to sit down, have a cup of tea and chillax which is exactly what I'm doing right now. I have written about music for this blog for 17 years and today I am not. I am writing about a court case I like to call French Vogue Vs. The People of Phil Berglandia. And, looking at the first line of this paragraph that brings probably the only thing that St. Tropez and Montauk have in common: Swearing pregnant women.
Ok Hente. Peace love and rock and roll to you all… Please try to catch a show in the next month of two. The clock is ticking on baby numero 3 and although the gigs are booked I promised myself and my darling husband that I would stop if it gets to much. I'm feeling great but the next 8 weeks things will start to get to the wire.After July 4th weekend I will be taking it one show at a time so I hope I make through to August! You can go to the GIGS link above or just know that we will be at the Surf Lodge Every Wednesday giving you a full dose of our sonic loving. There are also a few at the Montauk Yacht club and Navy Beach. I do it cause I love it and it makes me happy so thank you in advance for coming down and NOT asking me if I'm having twins. I appreciate that more than you know.
If you DO ask me if I am having twins there is distinct possibility that you will feel what can only be described as a Montauk/Czechoslovakian/French/Irish head butt. Good luck with that. There are no x-ray machines in Montauk so you will waste a day having going to Southampton Hospital to see if I fractured your nose just for one stupid comment. So not worth it. Just sip your cocktail and enjoy my zophtic pregnant ways.
Love you all. Even you fedora chasing Mary Tyler Moorians! I love you too.
Thanks for the support,
Nancy
Well, well, well. Looky here. A bunch of crazy ass professional musicians having a ball. Last weekend Talkhousefest 2013 was one for the books my friends. I knew it would be good but it slightly surpassed my wildest dreams. The Talkhouse was packed to the gills, the line-up was on fire and the entire night was a portal moment from one musical moment to the next, performer after performer hitting it out of the park. We set out to have a great night of music and got much more than that. I think this event will be bi annual from now on. One Talkhousefest in the fall, when the days are shorter and we need a little boost and another Talkhousefest whenever there is a music festival in my home town that doesn't pay local professional musicians. We have to work somewhere right? Sounds like a perfect way to move forward in my book. Everybody wins. We do our thing. They do theirs. Onward we go.
And now, almost a week later I am at home in my studio on a Friday night gearing up for a weekend of shows. I've got my slippers and a long sweater on because somebody forgot to tell Montauk that it's not winter or England for that matter. The fog is so thick that I feel like Harry Potter is going to suddenly emerge from behind a tree in my back yard. Thats cool. As long as he doesn't bring Voldemort. Fog or no fog, Montauk is mobbed and summer 2013 is arriving like a wet brunette fresh out of Woodstock. Disheveled, muddy but still holding a lot of sex appeal. I've never seen so many Burberry Umbrellas or Hunter boots in our fair fishing town but hey, its game on. It's Montauk 2013 baby. Anything goes.
I've got to make this brief as I have to actually head west tomorrow for a private party (hello traffic) and then come back out Sunday and Monday for some down home sonic lovin. We will be at two of our favorite spots this weekend, Navy Beach Restaurant on Sunday (5-7) and Gosmans on Monday (4-6). Both shows should get us all in the spirit and a tad warmer. Bring a blanket, a chair, a heater, a defroster. Or just bring a flask of good grain alcohol. That will take care of the other four things. I wish I was kidding but I'm not. Sort of.
Either way if you venture out for a show this weekend I will love you even more. I know what it's like to rally when the weather is crappy BUT I can promise you that when you get there, I will give you everything I got. Promise. I may be disheveled, muddy and in Hunter boots but I will rock it fo sho'.
Ok. More later… gotta roll. Be SAFE OUT THERE PEOPLE. Remember that deer travel in packs of three, hipsters travel in packs of 5 and bud travels in packs of 6. Sorry. That was bad but I couldn't resist. Voldemort put me up to it.
Good luck and seriously… be safe.
X
Nanc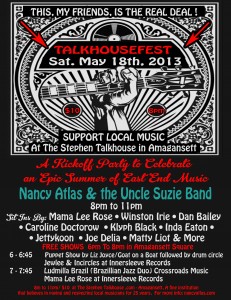 HEY! Welcome to my website! Strip your clothes off and dive in. To start, in honor of my little Talkhousefest I am making five of our most requested originals available as FREE DOWNLOADS at www.reverbnation.com/nancyatlas.com Yah! Everyone loves free stuff. Click away. If you have a minute and feel inspired, then follow us on reverbnation or just click the little FAN icon! If not, then simply enjoy the free sonic loving for the next few days. It's my way of saying "thank you" or basically "mi musica es tu musica" (since my house probably can't fit you all). If you REALLY like the music then you can always download it on itunes but theres a whole other page on this site for that. For now … simply enjoy.
So you want to go to a music festival? Right here in town? One that is full of love and good will and community? Well Ladies and gentlemen, lads and lasses, I have a music festival for you! Our very own TALKHOUSEFEST 2013 this May 18th at the Stephen Talkhouse right here in beautiful, downtown historic Amagansett.
The East End has always attracted artists due to it's bountiful nature, raw ocean vistas and stellar wine. It is, at times, nothing short of dreamy. We currently have a passionate, talented generation of musicians who have worked hard to call this place home and have also decided that it is high time to celebrate it. On Saturday May 18th we will be having a bit of a tour de force musical showcase all while having a musical celebration amongst ourselves as, believe it or not, a lot of us are friends off stage as well as on. It shows when we play. This festival is a ridiculous who's who of the music scene out here and it's exciting to just be able to see all our pals on on this one night doing what we do best: Making original music.
So without further ado I give to you our first annual
TALKHOUSEFEST 2013 6-8pm FREE
6:00 to 6:45 Innersleeve Records will have Jewlee Trudden and Incircles play and acoustic show. Jewlee and her band recently had a key mention in the New York Times and released a critically praised punk album "Youngblood" last month. She has been one of the shining lights in our musical community for the past two years and we are all excited about her recent tour and gorgeous album. A MUST for anyone who love Punk or someone who commits to the mic. I call her a young, female Kurt Cobain and come by and see why.
At the same time the fabulous and funny Liz Joyce, the 'Oz' behind Goat on a Boat puppet theatre in Sag Harbor, will have a show in the square.
7:00 -7:45 Mama Lee Rose will take over at Innersleeve Records. Mama Lee and her daughter Rose have held court on the East End for quite some time. They bring a mixture of R&B, funk, soul and a twist of it all in their own music. Fresh off the stage with Terrance Simion at Jazzfest this mother daughter duo will get you in the mood for the night ahead. No questions asked.
At the same time Ludmilla Brazil (Brazillian Jazz duo) will be playing at Crossroads Music. You MUST stop in to see these two. I have come across them at all the high end events out here and I must say they will make you want a nice mixed drink. A cross between Brazilian Jazz, Bosa Nova and Samba.
Gorgeous. A new experience for some of you for sure. They will stoke you up for the summer ahead with bonfires, chilled Rose and setting suns.
While Ludmilla and Mama Lee Rose are doing there thing a Drum Circle will start in the square. All welcome from 1 -100.
7:45-11pm At Talkhouse $10
At 7:45 the party will head over to The Stephen Talkhouse with Jettykoon, a three piece band from Montauk featuring Thomas Muse, Billy Lucey and Abby Levin. Their organic original music keeps the bars stacked in the summertime and will offer the perfect conduit to taking the night over to the other side. A smooth rock country mix that "gets better with every beer". They will be joined with the sweet tones of Matty Liot on Electric Guitar. Come over, grab a brew and kick back. The night is just getting started.
At 8:30 I, Nancy Atlas, will take the stage with my band. You're obviously at my website so check it out if you don't know us. We don't mess around. We have been all over this fine land and had the privilege to open up for some greats. We have been a band for over 17 years (which I like to count in dog years so multiply that by 7 and you will see thats a long time :). If you don't know us I sure hope you come by and give us a little nibble. We pride ourselves in our track record for delivering full on musical experiences every time. Over three hundred shows served on the Talkhouse stage alone. Our style: ummm.. Alt Country to Rock to Reggae to jumping off amps to rolling on the floor. I'm six months preggers so maybe not jumping off amps but I can still sweat like a motha (literally) and I have a lot to say so it's still game on.
Then the sit ins start:
Inda Eaton – Wyomings Girl. East End favorite. Hot off a West Coast tour. STELLAR new album "West". Inda is a good friend and I am not sure what she has in store for us but I can guarantee it will be "off the hook" or "one for the books" because Delmar, her tourbus, will be parked in the front and there is a rumor she may have a beer, a bbq and her guitar in hand. Just the way we LOVE it. Soooo good.
She will be followed/ joined by Caroline Doctorow. Folk Legend. Reverb Nation #1er. Caroline is her own woman, a prolific writer and regarded as one of the best in the Folk world. If you don't know her think: Nancy Griffith, Emmy Lou. We are all very close friends and there will be some gems from our sold out Guild Hall Show last fall. She has brand spanking new album that will be a Sunday morning classic this summer. Be sure to pick one up.
We will most likely play a few more tunes and then:
Joe Delia will be next up at bat. Joe is as good as it gets. Piano on fire. Good ol Fashion Rock and Roll all while rubbing your eyes and thinking its Jagger on keys. It's not. It's Joe. Mick couldn't even play one lick like Joe. Love him but he couldn't. Joe will be sitting in and putting the first layer of sweat on the pipes overhead.
Klyph Black- Ummmmm. East End Legend. Talkhouse Icon. While there are alot of links I could put for link why don't I get you off on this one at Kenny's Castaways. Yeah. That should get you in the mood.
Are we done yet? No we are not.
WINSTON. Jah! One LOVE! my friend. My comrade. The unstoppable Winston Irie. Yeah. Real deal. We have such love on stage together and RESPECT. That is what this about people.
Or maybe Dan Bailey does it for you? A bit of rhythm to get you in the mood? Dan and I have had a few wonderful jams over the years both on and off the dancefloor (the boy can dance). If you've had a shitty week his sit in will be sure to elicit a smile. Maybe Winston will still be around and we can create a Reggae Tribe Project. You never know. The night is our oyster.
So I am busy. We've got a lot to do in a a week. There are talks of maybe showcasing a few artists as well. Maybe some food. I'm not sure. I bet Eaton will be grilling something good out the back of Delmar. This much is true: it will be a night to remember for sure and I will be there with you, sweaty palm extended from releasing the pixie dust that can only come from live music thats grown in your backyard.
I hope you will come down and be apart of our vision.
Rock, Roll and broken guitar strings,
Nancy
at 7:45- 8:30 Jettykoon will start over at the Talkhouse and lead into a full night with our band playing with sit ins by: Mama Lee Rose, Winston Irie, Dan Bailey, Inda Eaton, Joe Delia, Matty Liot, Klyph Black and many more.
This entire festival will be filled with top shelf East End musicians coming together to celebrate and have some fun. Having just come from Jazzfest I was inspired to build a night that really showcased the comradery between the musicians out here. It is possible that we might even show an event or two the REAL way to do things instead of make money off of musicians back (hello MMF).
I'm supposed to be asleep. But I'm not. I'm updating my reverbnation.com/nancyatlas page. I'm updating dates. I'm updating updating. I'm dreaming of chocolate pudding with whipped cream. Where the hell was I. Oh yes. I am far, far away from sleep.
My annual trip down to New Orleans Jazzfest was epic on all levels. The music was well, the only word I can think of is, Ionic. It shook up all the ions in my body and took them to their secret happy place. Not a lot of things can do that (and we all know what else can. Thats right. Chocolate Pudding. Ha ha ha. No the other thing too. Sorry… I don't even really like chocolate pudding but I have some upstairs and it's calling to me in a way that only food can when you are hungry late at night. Thank god I don't smoke pot. I would be doomed). ANYWAY… my ions. My shaken ions. Who shook my ions you ask? Jon Cleary. Holy sweet jesus. Jon Cleary and Ivan Neville at the Maple Leaf with a mixture of their bands. Two legends rocking out in a small club at 2 am in the outskirts of town just works for me. Who else… Um Diane Reeves blew my socks off. Jazz Tent. I had never heard of her before and went on a recommendation. This woman can sing for realz. Who else… ahh yes. Trombone Shorty and his New Orleans Ave Band at the House of Blues. Another year, another classic show. I love when I get my ass kicked by a twenty something. Good stuff. The honorary dessert of New Orleans should be humble pie because you kind of think you are a musician until you go there and see it being done on 11 night after night. So yeah. I was sonically smoothered and inspired and beaten into the floor in the best way. It made me want more from them and also more from myself. Donatello and Brunelleshci lives on (sorry freak art history reference there about inspiration but it fit the point aptly).
I have brought the spirit home with me and am looking to spread the love on the 18th of May in Amagansett. We are turning the small little town into a music hall for about five hours. Shows start in the square at Innersleeve Records (inspired by Louisiana Music Factory… google immediately if you've never been) and Crossroads Music. 6-8pm. Free. At 8 we head over to the Talkhouse for a slamming show with all the cowbells and whistles. This should be one for the books. Mama Lee Rose, Dan Bailey, Caroline Doctorow, Inda Eaton, Joe Delia, Mick Hargreaves, Matty Liot, Jettykoon, Jewlee Trudden… the list goes on. One massive musical lovefest to wash the icky taste out of my mouth from other crap going on in my town where music festivals are built off of getting advertising for the festivals founders newspaper. Nice. Doesnt pay the musicians for four years running. BOOOOOOO. If I was a judge and jury I would send him to New Orleans and teach him about embracing the local musical community and the beauty that will grow with that. If nothing else Jazzfest is a celebration of the heritage of music in that town. AMEN.
ok. I can't take it anymore. I'm off to my kitchen for some late night snacking.
See you all on the 18th and if you are in NYC on the 8th of May then PLEASE COME DOWN TO THE PARKSIDE LOUNGE, 317 East Houston. 7pm/$10. We need you. WE love you. Good night.
X
N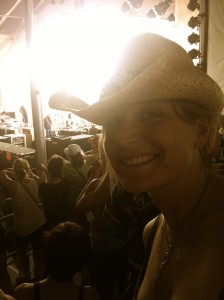 If there is a Heaven then this is what it looks like for me. At least behind curtain number three. The above photo was taken last April as I sat backstage watching Tom Petty headline at Jazzfest. Due to the grace of a good friend who work at SNL I got backstage passes. Dreammmmmmy dreammmmmy dreammmy. That alone was cool enough as I never saw it coming. It was one of those meant to be moments where my pal was in town and happened to call me. She knows of my deep love for Mr. Petty and it all came together hours before the show. Did I mention that he was dressed in an all blue velvet suit? He had on slamming shoes to match thus blowing any chance of looking like Willy Wonka out the window. He played and played and played and I soaked it all in. After that I went and had a little homemade strawberry basil sorbet and chased that with a couchon du lait sandwich. I told you. Door number three. That is where the good shit lies. Heaven has a lot to live up to.
Right now I am hours away from my way to early flight tomorrow morning. I am running around like only a person can that has two kids that she is leaving for a few days of hookie. Schedules, food orders, play dates blah blah blah. This is SO NOT ROCK AND ROLL! You name it i pretty much have to do it in the next six hours. Update a website? No problem. I am typing this with my left big toe while stirring a pot and whistling Beethoven's 5th. In short, not a good time to correct my spelling. ANYWAY it will all get done and I will be on the flight at 6 am, despite every reason not to, because this is the one time of year that I get to lean back and let the warm Louisiana wind blow threw my hair while watching epic live music. I honestly look at it like a master class. I always come back inspired and refreshed. And a few knobs heavier. The way that I see it is if you're going to knock on a few pounds then this is the food you want to do it on. Did I also mention, in addition to Tom Pettys furry blue ensemble, that I am 5 plus months pregnant with a girl and she has decided that seafood sucks? If you know me then you know how cruel that is. But I'm in a kind of "bring it on" mindset of late so WHATEVER little baby, I won't eat fried oysters… you win. For now.
ANYWAY. Two great shows last week. Special thanks to the front rows willing participants that mooned me for my birthday. What do you get a girl that has almost everything? Your bare ass. That's what. I am STILL laughing about it and it's a week later. In addition, I did a very special House Concert for a good friend of mine that just turned into one of 'those' nights. Like yummmy, gooey sonic loving. People sitting on couches, fire burning behind and my little three piece taking it all the way home. Her request was only female singer songwriters and I must admit at first I was a bit standoffish about it in my own head as there are a lot of killer tunes out there written by boys. You know. The boys! Once I embraced the concept it was like a search light shining into a barren basement. The deeper I dug the more inspired I got. Now I am truly listening to things that I hadn't really considered in the past and also realizing that I need to get back to what I love the most… songwriting. So hold tight Sally. New tunes are a brewin'.
Still lots to talk about but my big left toe is tired. PLEASE COME OUT on May 8th from 7-9pm at The Parkside Lounge as we make a return to New York City! And also a lot more to come about the Monster show on May 18th at the Talkhouse. Nancy Atlas and Friends. Inda Eaton, Caroline Doctorow, Joe Delia, Mick Hargreaves, Jettykoon… should be one for the books.
Gotta roll.
Love and Full Moons,
Nancy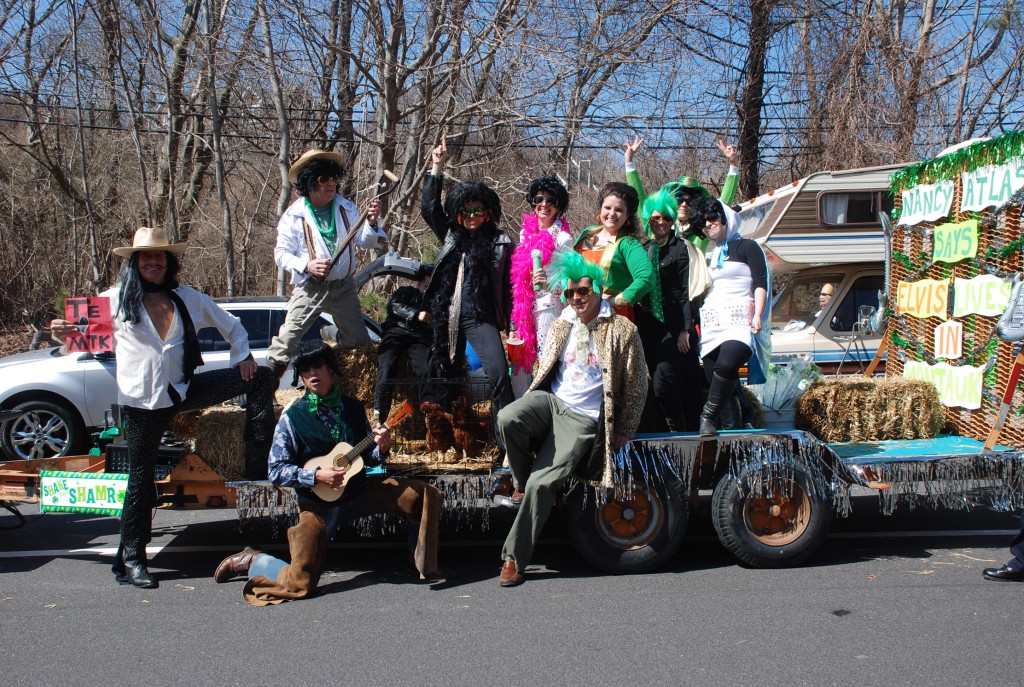 Can you find the chicken? Yes. It's real. It came from Farmer Elvis. You can't miss him cause he's the guy with the pitchfork and the sideburns. What you are seeing my friends is my derelict Elvis float that I have every year in the Montauk St. Patricks Day parade. Last year we ditched the float and jumped in vintage convertible cars which made everything much easier and cooler. Have you ever tried to do the Elvis Shimmy on a float going 30 mph with no side rails and keep one hand on your four year old who is throwing the entire lot of beads and candy to a person with three teeth at the very start of the parade? No? Well it's a true test of survival multitasking if not multi cooridination. So let me tell you, the car's were a nice change. An Elvis hip wiggle is much easier with your knee wedged in between the back seats of a 1969 convertible caddie and your kid sitting safely in and actual seat. Plus Elvis loved cadillacs so why the hell not. We have THREE lined up this year. Red, white and midnight rambler blue. I may have to shoot firecrackers out of my ass if this keeps up. Anyway… where was I? Nothing can distract a story like ass crackers. Anyway… What else can I tell you about our rebel float. Well, It is always cold. We are always laughing and I am ALWAYS sticking something onto somewhere with duct tape in the last few seconds before we launch. Drunk firemen always mess with us and we forgive them (except the time they tried to let the said chicken loose) because its St. Patricks Day and top of the morning to you, and YEee hOOOO there's an extra hour of light in the day, and go pee in your Elvis outfit by the daffodils on the hill because your drinking a bud at 10 am and there is no porta potty and isn't the March wind so beautiful as it blows through your fake black stallion mane and ohhhhh… March sunlight after a long winter feels like manna from the Gods.. What? Sunlight with Clam chowder? Are you kidding me? .. and is that a Guiness? I don't mind if I do… and some corned beef. Why how nice of you. You love Elvis? You want to give Elvis some of your Grandmas Irish Soda Bread with butter? How nice! I never knew caraway seeds could taste so good! Yes. Everyone loves Elvis. And on the 17th of March you ARE Elvis. Any Elvis. Bringing joy to the older folks and making the young Spanish chicas sway.
I am only writing about this because we are deep in the armpit of January. A very nice January so far but it is January just the same. Today it is raining which is just wrong. Hundreds of little kids in Montauk have yet to see a real snow and they stare at the rain, with sled in hand, like it is their first real let down in life. You're on your third cup of coffee and it's 8:49 am. There are no real jump for joys in January. More like a yawn, a stretch and a scratch of the butt and yeahhhh, look at me I made it through today without going to sleep at 3 pm. SO i thought … why not put a little flame out there. A little flicker. A tease. Start now… think of which Elvis you would be and go for it. Order up the suit online or make it at home. Either way I defy you not to smile when you click the little button for the gold glasses with the fake green sideburns. Irish Elvis is alive somewhere deep inside of you. I know he is. And he is dying to come out and play. Or at the very least cheer up your shitty ass January.
If you would like to join in the fun then Meet us at the Montauk Fire station at 9am on St. Pats Sunday. You must be in Elvis costume. No one will be denied although if you are bringing a few people then maybe try to rally a convertible car as well.
I'm out of town for a bit but will be back when the March wind blows. Shows and life as we know it will crank up again.
Sending you a hunk a hunk a burning love.
Peace out home skillet.
Nancy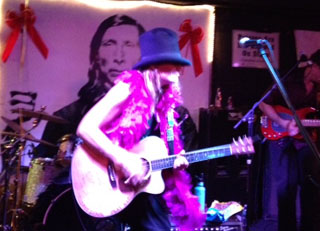 Bringing in 2013.
Photo by David Gribin
Slash just called me. He want's his hat back. No seriously – it's a freshy,fresh 2013! A nice, spanky, clean post, as it should be. 2012 was a keeper but 2013 already has an undefined beauty that is all it's own. There is something about the number. My eye likes it. My head says, yes, it will be a wonderful year. Knock on wood. Salt over shoulder. Here we go.
So. Wow. New Years was just off the hook. Several people came up to me that night to tell me that it felt like a "Saturday night in July". I couldn't have agreed more. The Talkhouse was on fire and the only real indication that it was winter came if and when you tried to get a drink from the back bar. You needed your coat, your gloves, your flappy, fur lined hat and an ax to cut some wood. It was so cold back there that Matt the Bartender lit a garbage can fire just to warm his fingers. Not really but I bet you 10 bucks he thought about it. Anyway, by the end of the night the young girls in their fabulous Forever 21 glittery dresses were feeling no pain and doing shots. Frosty conversational smoke came out of their mouths as they slurred and rambled through smeared red lipstick about how much they loved each other, how much they loved the New Year and how much they loved the cute guy in the corner they were about to make out with after they finished their aforementioned shot. Yes. If you weren't there, well now I've painted you just one slice of the night. Cut to the dance floor and we see people hot and sweaty, jockeying for the front row. I already have one bonded front tooth from a girl who tried to hug me with a corona bottle, many years back, at two in the morning. She missed the part where her arm was supposed to go around my neck and basically swung her glass bottle directly into my mouth. She could have worked for the Mafia because I was strumming and singing and never saw it coming. Good times. Well that same spirit was in the air on New Years Eve and I am just happy to report that there were no trips to the dentist. That is mainly due to the fact that Bud Light now comes in blue tin bottles. Lets just say the overzealous tambourine girls were in full form trying to pour beer into my mouth while I was performing. They missed my mouth entirely and poured a beer or three over my chin and on to my entire outfit. Luckily it was being done out of love so I didn't go Ramba on them (that would be the feminine form of Rambo). The positive energy was palpable. I truly think that everyone was just so excited to just be in a spot that was rocking and we couldn't have been happier to be leading the way.
We had the great pleasure of having Drew "the SoundGOD" behind the console that night and the band just simply had fun. It was pedal to the floor out of the gate and three/ one hour sets later we all rambled home at 3:30 am with smiles on our faces and blisters on our fingers. What a great way to bring in the 2013! I truly thank you all for coming out and feel that we heralded in a New Year on a very high note. The power of music always amazes me especially when the stars align and we all go into the timeless tunnel of live music together. When it's over I feel like putting my hands up to my mouth in disbelief like when Taylor Swift wins an award for basically… anything. OMG. OMG. This is just to good to be true. (never really thought I would reference Taylor Swift but its a new shiny year so there you have it… anything is possible.)
I am headed off to my annual winter hiatus. It's good for all of us to take a break and especially for me to finish up/ tighten up/ rip apart and reconstruct some new tunes. I have been in a pretty good place lately, creatively speaking, and I know that we are due for another album soon. The songs are starting to line up and all I can say is that it's percolating slowly. Dark Ecuadorian coffee in a cold steel pot my friends. You can smell it but it will be a little more time before you can taste it.
Ok. That's all I got. Wishing you all a happy and healthy 2013 complete with light, laugher and ROCK AND ROLL.
I love you all.
X
N