Nobody likes a braggart. They are insufferable really. I know this guy and every flipping time I see him, all he does is talk about himself non stop . It is worse than a tooth ache. Around 15 minutes in I start to zone out and it doesn't matter if he has just won the lottery, I get this zombie stare on my face that just say's, "uh huh, yep. that's great". Blah, blah, blah. On he goes. TOOTH ACHE. Now I mention this because I need you to be tolerant of my little blog this month. Really, I don't mean to sound like a blow hard… it's just that there is a lot to celebrate at Camp Atlas these days and I want to just take a moment to acknowledge it. To roll in the sun if you will. To be present to a bit of the bliss after all of the asphalt i pick out of my face from being in this business. Ahhh, the asphalt how i love thee so.
So, it's only been two months since we ended our second season at Baystreet Theater. This year we had six of those shows sold out and the other four at near capacity, all occurring in the dead of winter which made it even more surreal… 300 seats every week. To the wall… in snowstorm after snowstorm. It was a wild ride. My Fireside Sessions were a direct result of having had a baby in the late summer of 2013 and not being able to travel. Talk about the beauty of the unknown. Sometimes you must believe little grasshopper and magical things will happen! Well, another case in point of the more you know the less you know. Never saw the response to these shows coming and it just kept getting bigger and bigger. (have you zoned out yet? Should i bring in the sniffing salts? Don't let me lose you now. Not this early in the game.)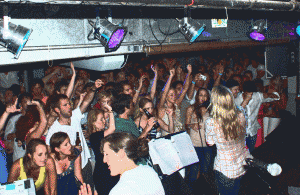 Next month our summer season begins in earnest and we will still be holding court at our favorite hometown honkey tonk, The Stephen Talkhouse. After many years of hot gun blaring rock and roll, we have decided to take the coveted 8 pm earlier slot. As much as I love picking boa feathers off the back of my neck in the twilight of a new day (gigs would get us home at about 4:30am) it was time to just focus a bit more on the original music and not taking a day to recoup from the insane late night mayhem that took place the night before. So we will still bring it… just a little bit earlier.
I was recently talking with Talkhouse Patriarch, Peter Honerkamp, and he mentioned to me that no female has played that stage more than I have. Not even close. It's not a Grammy but you know what? I am very proud of that. I have left a lot of sweat, energy, blood (literally dripping from my knuckles) and boa feathers on that stage with the guys that make it all happen, my second family; Johnny Blood, Richard Rosch, Brett King and Neil Surreal. Late night shows at the TH have been a sheer addiction. My secret affair. I could not get enough. On and on it went, our little wolf pack romping and howling, purging and time shifting. Say what Willis? Time shifting? Yes Boss Hog. Time shifting. I've mentioned this before but when you get to the sacred spot of creating and all elements are aligned, time stops. You enter a tunnel together. When the last chord is strummed in the set, you emerge like a black cormorant, splitting water after a long spell below the glassy cool chamber below. You feel at ease and divine. Did I mention it's addicting? In the end all you really have as an artist is what you put out. And we, as a band, have put out a lot. We try not to rest on our laurels, keep new songs coming, connect when in your presence and create by Job! Create! Ok. I'm getting long in the tooth here but at some point you need to smell the roses and I guess I'm just taking a minute in this vapid life to say "HEY! Thank you for coming out time and time again so that we can shake our tailfeather and do our thang. And yes, it's working. The whole damn beautiful dream is working, thorns and all."
As for gigs we will ramp up in July and August. This June my nine year old son is in a production of ALL MY SONS at Guild Hall. He's nine and wants his mom around so yeah, that is well, without hurting your feelings.. more important that you. Ha ha ha. No seriously. It's more important than you. Ohhhh can I write it one more time… no I won't. I'm just laughing here in my little studio. Really, seriously now… He's in a play with two greats. Alec Baldwin and Laurie Metcalf. Do yourself a favor, buy some tickets and be in the presence of these giants for a night. You will be changed. They are nothing short of magnificent and going to absolutely CRUSH this play. Mark my word. Go see this play. (it's official… i am now pimping my sons shows as well. Just in case you were wondering, there is a GOD and he is very, very funny).
So with June committed to having my priorities straight, the only gigs I have are some fundraisers which are close to my heart and our Wednesdays at the Surf Lodge. That's every Wednesday, starting on May 27th, from 6pm to sunset, rain or shine (the rainy days are always wacky good fun and the sunny days are packed but with the right type of people and vibe. It's worth finding a parking spot. Just a heads up). All ages, Free to be you and me (i was in that play in fourth grade but I can't tell you a damn thing about it. I think it was some sort of hippie fest with little kids running around in bell bottoms believing in themselves? I don't know. That is all my 10 year old mind remembers. Bell bottoms and 60's style colors with a tip of the hat to conjunction junction what's your function… who doesn't love that shit? Hello 70's baby. Damn). Where was I. Man I can ramble. So annoying. Oh yes, Surf Lodge, another bar that we have played a lot at. More than any other band? Why yes. That too. I'll take it. Seven years, every wednesday. Whoop, whoop. Now I see why my friend always talks about himself.. it's fun being a blowhard.
OK. I'm done. I love you all. I mean it. If you can't tell I am full of love today. Thank you for visiting my site and checking out our band. We've got lots of dates coming up, some fun videos even a picture or two. We are also full of gratitude and ready to kick your ass for another summer season in the Hamptons. I want you leaving our shows saying, "Jesus, that band just keeps getting better and better!". That is my mission. I am but your humble, bragging rock and roll servant.
As is custom:
May you look down at your feet and find them tapping out a tune you have just written that has been sitting in your mental belly for over a year, digesting, turning over and as you play the first chord and the first words form on your tongue and in your mouth you realize that your gate is opened and you are free to purge what ever thoughts clank and chatter through your soul. In that moment you are truly alive.
Peace out home skillets,
Nancy
May 16th, 2015
I am back from my tour in Wyoming and have much to say on this subject however right now I am making the donuts and off to another gig.
Here are my abbreviated thoughts:
1) Wyoming People love original music played well. They buy CD's and learn your tunes and if your a songwriter that just wets your whistle across the board baby.
2) Go to Wyoming if you like to eat free range meat and drink very good beer.
3) Do not go to Wyoming if you are trying to lose weight.
Much more on this when I get a day or two off but I couldn't let another day pass without an heartfelt thank you to Inda Eaton, Jeffrey Smith and Bea Rehm- Gertis for what was a musical soul vacation. I am still smiling and I've almost been home a week.
Much love to you all. The schedule cranks up next week. Surf Lodge Wednesdays start on May 27th or whatever the hell that wednesday is after Memorial Day. It is rain or shine.
May you look down at your feet and find them hitched up between two front seats of a Mini Van as you have to sit in the back slot of a full vehicle on the way to a gig. Your position resembles a woman giving birth and you think to yourself, 'If Jeffrey hits the breaks I may be having a baby car arm chair in nine months.' as your ass is straddled between two plastic pieces and your hosts brother starts talking about being a Master Debater. Say that five times fast. Master Debater. Master Debater. Master Debater. I think you get the point and it only took three. In that moment you are truly alive… and laughing.
Peace out home skillets and thanks for checking in.
X
N
April 30th,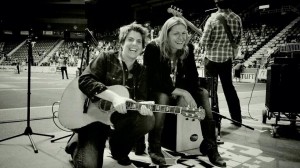 2015
I'm packing my bags and off to beautiful Wyoming for a short tour that is all made possible by my good friend Inda Eaton. Not only do we get to make some beautiful original music with her band but I also get to be a presenter for her fourth annual i2i (ideas to inspire) Conference that goes on at both the Trails Center and Casper College. Can't wait to kick back and soak up some of those big, gorgeous roaming clouds and bite down on some killer beef jerky. Good times await!
Our summer schedule is filling out so be sure to check our GIGS link above. See you soon and be sure to say hi if you are in Wyoming.
Rock it,
Nancy
April 23rd, 2015
Good Morning MONTAUK. Good morning WORLD!  I am finally coming out from under the Fireside Sessions Rock that I crawled under after our last blow out show with the Uptown Horns on March 27th. For the second year in a row, Arno Hecht and the boys absolutely crushed it.  They ended our 2015 Fireside run which produced six sold out shows and four more shows on top of that at near capacity. I was very proud of this years line up and our band put in an enormous amount of work to pull it all off so on behalf of them, our guests and Baystreet a deep heartfelt thank you to all who came out and supported the series. Once again it surpassed my expectations on many different levels and while it is almost impossible to pick a favorite show, I would say that my favorite moment was Chad Smith singing the third verse to "Brandi You're A Fine Girl". Yes. That memory will serve me just fine for a while. Clark Gayton walking down the steps in a full white tiger suit and playing a face melting solo on his trombone? Yes Daddy. More Please. Not a shabby second. Randi Fishenfeld and her transcendental version of "White Rabbit" on Violin? Yep.  Two more sides of that  and don't hold back on the gravy. Billy Campion on "Oh Danny Boy" with just a bagpipe and acoustic guitar for our St. Pats Show? I don't know what they give people in fourth place but let me just say a fine and dandy shiny bronze for you sir with a big fat four on it. Those shows are the closest anyone will ever come to the inner workings of my mind. That said they were down right exhausting and I couldn't be happier that it is SPRING! Yes Spring!  Hasta La Vista Sessiones De Chimenia. See you on the flip side baby.
So it's Here. We never thought it would happen but it did. It stopped snowing. For now. We are all relishing in the warmer weather, the sweet song of peepers in the town pond, orgasmic timeless sunlight as seen through the never ending eyes of all artists past, present, future and of course to all coffee drinking, late waking musicians: the booking of summer gigs.
I can say with fair confidence that if you like our band and want to see us play on the East End this summer,  that you will definitely have quite a few chances. We have some new shows in Southampton and Sag Harbor in the works. That is like playing in Alaska for me because I live in Montauk but hey, when the iron is hot.  We will keep you posted.
For now I am gearing up for a quick little tour in Wyoming with my pal Inda Eaton where I will be participating in her i2i (ideas to inspire) program. Inda has been kind enough to invite me back to her home turf and spread the love with her solid following. It is always a treat to sing back up to her beautiful songs and also get to play my own tunes with her  killer band. Did I mention the backyard barbeques as well? Wyoming style. It is no joke and involves free ranging meat and Jack Daniels. It is just as you picture it except maybe even a little better if the clouds decide to grace us with a show.  All I asked her for was a full nights sleep or two which would be just a huge cherry on top of a pretty decedent cake.
Ok. I'm out. I gots lots to do Lucy and not lots of time to do it. You do too. We all do. It's spring.
As is custom: May you find your feet on your wooden back deck feeling the spring sun hit them for first time this year whilst shad trees tremble with the desire to bloom.  In that moment you are truly alive.
Peace out home skillets,
Nancy
If you would like to read my Fireside Sessions Series at Baystreet Theatre please click here.
P.S. If you have any desire to read any other blog entries from this year you can do so by clicking here: WINTER 2014
I have also added a slew of BAYSTREET 2014 FIRESIDE SESSION REVIEWS on our "Raves" page or you can just click the link.